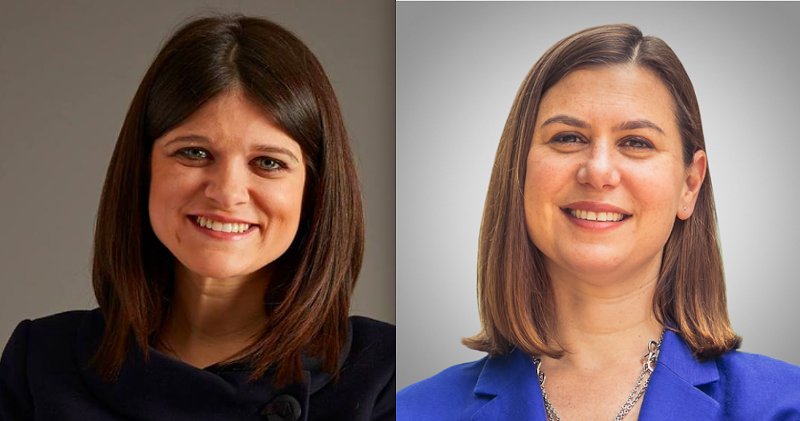 Haley Stevens, left. Elissa Slotkin, right
A political action committee run by Republican women opposed to Donald Trump is getting involved in Michigan's most competitive Congressional races — and supporting the Democrat candidates.
Republican Women for Progress PAC tells
Metro Times
it has taken out $50,000 television ad buys in Michigan's 11th and 8th Congressional District races. Both races feature a moderate Democrat against a Trump-aligned Republican. In MI-11, Democrat Haley Stevens is up against Republican Lena Epstein, the former Michigan chair for the Trump campaign. In MI-08, Elissa Slotkin is trying to unseat incumbent Rep. Mike Bishop.
"We think the best thing that we can do for the party and for the country right now is to make sure there are good women — Democrat or Republican — that are elected to office and who can serve as a check on this administration and on the president," says Meghan Milloy, co-founder of Republican Women for Progress. "[This effort] really was inspired by us talking to Republican women in these districts where they said there was just no way that they could vote for the Republican."
Each of the Michigan ads features a woman Republican voter sharing her concerns about Trump. In MI-08, Kathleen Vanpoppelen of Rochester describes Trump as acting "almost like a 6th grader that doesn't know how to interact with females."
"How can you represent women when you talk about them like you're from the 1950s?" Vanpoppelen asks. Of Slotkin, she says, "I don't care that she's a Democrat, as long as she's on the side of truth."
In Michigan's 11th, Diane Smith of Novi says she's turned off by the Republican Party because it has failed to stand up to Trump's misogyny and his
demeaning of women.
"I don't know how Lena Epstein can look herself in the mirror in the morning knowing that she helped put this man in the oval office," says Smith. "I feel like people in America are yearning for some compassion in their politics and Haley Stevens brings that to the table."
The ads are intended to target suburban women voters — a key voting bloc that political prognosticators have said could cost Republicans control of Congress. Suburban women — who generally have a higher level of educational attainment than the women who helped elect Trump — tend to strongly disapprove of the president. This summer, even before the saga surrounding Brett Kavanaugh's Supreme Court confirmation unfolded, Democrats had nearly a
30-point lead
with suburban women.
Stevens and Slotkin are two of just four candidates across the country that Republican Women for Progress PAC is supporting with television ads. Milloy says the PAC is focussing its efforts only in competitive districts where a moderate woman candidate has a good chance of winning. All of the women it's supporting are Democrats.
The PAC is the outgrowth of a policy organization that shares its name. Founded after Trump became the GOP nominee in 2016, Republican Women for Progress the nonprofit holds policy training events for women and supports first-time female candidates.
Women involved with the organization, Milloy says, oppose Trump for his inflammatory behavior, but may also disagree with some of his policies. The women "care about the traditional Republican ideals of fiscal conservatism and limited government," but can diverge from other Republicans on issues like access to birth control and abortion. They may be more compassionate on some issues, like immigration.
While the Michigan ads don't call out any of Trump's comments about women specifically, they include visuals from the infamous "grab em by the pussy" Access Hollywood tape and from a 2016 debate in which Trump ridiculed then-candidate Carly Fiorina for her appearance. Somewhat surprisingly, there are no shots of Kavanaugh — the accused sexual assailant who the avowed pussy-grabber just put on the highest court in the nation — as Milloy says he's been a galvanizing force for moderate Republican women.
"During the confirmation hearings, we were getting messages left and right from women we'd never spoken to before, women asking how they can help," she says. "We saw a big spike in donations to the PAC — and if anything good came out of that confirmation, it's that we can run more ads for these anti-Trump candidates."
Stay on top of Detroit news and views. Sign up for our weekly issue newsletter delivered each Wednesday.