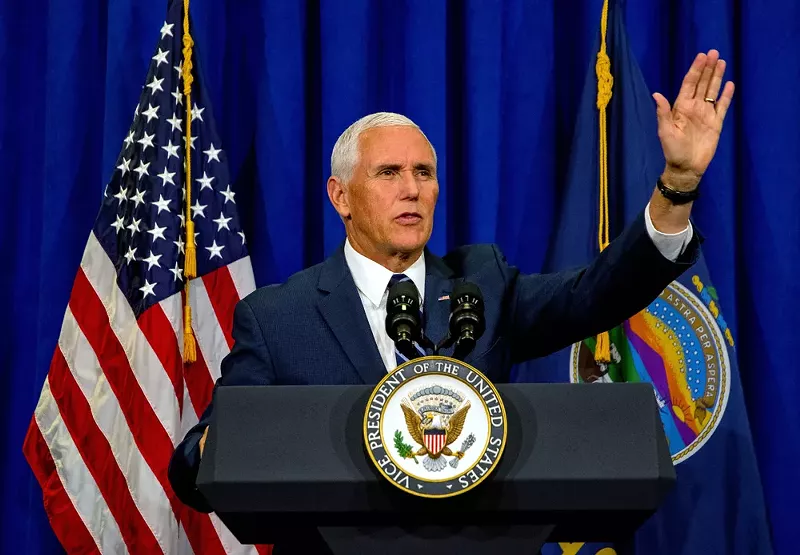 via Shutterstock
A compromising pose for Mr. Vice President.
From
Nazi swastika-infused campaign commercials
to accusations of
"black genocide" on the radio
, this Michigan election season has gotten ugly. But it might calm down a bit next week when the big tub of boring-ass mayonnaise that is Mike Pence comes to town.
Vice President Mike Pence is expected in Michigan again next week to campaign for GOP candidates ahead of the Nov. 6 midterms, the Detroit News reports. It will be his fifth rally in Michigan ahead of the midterms, and eighth since taking office.
Pence will rally in Grand Rapids and Oakland County, according to the Detroit News, though the exact locations are unknown.
It should be expected that Pence will recruit voters for Republican Senate challenger John James and candidate for Governor Bill Schuette, but will a Pence endorsement help?
To recap, Pence is the politician who, as Governor of Indiana, signed "the most abortion-restrictive regulations in the nation," according to The Huffington Post. The law included a requirement that aborted fetal tissue be buried or cremated. Thankfully, a Supreme court-backed federal judge blocked the law.
He is a staunch supporter of Supreme Court Judge Brett Kavanaugh and opposes the right of NFL players to protest the national anthem. On the latter issue, as he says, "#winning."
On LGBTQ rights, he's just as shitty. As a congressman, he endorsed the allocation of federal funding to discourage same-sex relationships, and has faced infamous accusations of endorsing conversion therapy practices.
Like the DeVos family, he has a history of shifting funding away from public schools in favor of "school choice," which has led to a proliferation of charter schools and vouchers in his home state of Indiana.
However, Pence is the head of Trump's new sixth branch of the military, the Space Force, and that's pretty fucking sick.
Both Senator Debbie Stabenow and Democratic candidate for Governor Gretchen Whitmer are ahead of their opponents by at least ten points in almost every poll. With former President Barack Obama slated to visit Detroit on Friday, we'll see what Pence can do.

Will Feuer is a Metro Times fall editorial intern.

Stay on top of Detroit news and views. Sign up for our weekly issue newsletter delivered each Wednesday.