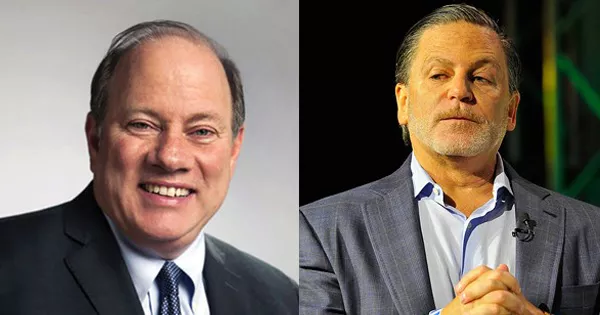 Courtesy photos
Detroit Mayor Mike Duggan once accidentally told reporters that businessman Dan Gilbert was his boss.
Why are a Republican-leaning organization and corporate interests funding campaigns for Detroit charter commission candidates affiliated with Mayor Mike Duggan and Dan Gilbert?
That's the question some involved with the charter commission race are asking in recent days.
The right-leaning Detroit Regional Chamber is funding a disinformation campaign about the race, and supporting slates of candidates who are linked to Gilbert, Duggan, and other powerful city interests. As part of its campaign, the Detroit Chamber's PACs are suggesting there's a proposal to eliminate city council elections by district.
However, there is no such proposal. Russ Bellant — a city retiree and community activist who organized two charter commission candidate forums — says the Detroit Chamber's claim is "especially troubling."
"No one wants to destroy city council elections by district," he says. "The fact of the matter is there's not one candidate in the race proposing to change the districts … it's a manufactured lie."
That's also concerning to Joanna Underwood, a single mom campaigning for the charter commission. She says she's low income and part of a grassroots effort to make charter changes that help residents like her instead of the corporate and political establishment.
"This is the city's constitution, it's a non-paid position, and there are super PACs from Lansing and California [funding other candidates]," she tells
Metro Times
. "This is the most local position you could run for and they're making it impossible for people like me to run to represent the city."
Additionally, several sources who spoke with
Metro Times
charge Duggan wants to use the charter revision process to eliminate or weaken citizen oversight of the police department.
Bellant characterizes Duggan as "determined to control the charter process," and he says certain charter changes could free city officials from oversight and save developers like Gilbert money.
Duggan spokesperson John Roach denied that Duggan wants to weaken or eliminate the police board, calling the allegation "false." He later added "the mayor did not support opening the charter and has not endorsed any candidate."
Underwood and Bellant also see a charter revision as an opportunity to insert language that would require developers seeking tax breaks to agree to a community benefits agreement in exchange.
The city charter provides the city government's framework, and is similar in some ways to a constitution. The current charter was put in place in 2012, and the question of whether it should be revised was automatically placed on this year's primary ballot. That measure was approved by around 150 votes out of about 66,000 cast. A nine-person charter commission will go through the city charter line by line and propose changes.
Residents will elect charter commissioners in Tuesday's election to undertake the job. Voters will then consider the new charter in a yet-to-be-determined election.
Follow the money to Detroit's corporate interests
State election records show Powering The Economy is the right-leaning Detroit Chamber of Commerce's Super PAC. The Detroit Chamber's PACs receive money from multinational corporations like Flagstar Bank and a who's who of regional wealthy Republicans.
Its super PAC
sent $39,000
to the Detroit Forward Together PAC, and on Oct. 26
gave $27,000
to Detroit Neighborhoods First PAC. Those two PACs in October sent out mailers with misinformation about the charter revision campaign.
One mailer stated that its candidates will protect Detroit from the elimination of city council elections by district. Another, somewhat ironically, states that the candidates are for open government.
Bellant says many of those candidates have provided little information about where they stand on issues, and he characterizes them as "mailbox candidates."
"They're trying to create a scare issue and that's their sole issue so they don't have to explain what they stand for or who they stand with," Bellant says.
The eight candidates supported by the Detroit Chamber-funded super PACs include a collection of politically connected individuals, employees of Dan Gilbert and others who are viewed as representing corporate interests.
Among those supported by Republican funds are Emily Dabish, a
Dan Gilbert employee
; Michael Griffie,
an attorney
with Detroit's powerful Butzel Long law firm, and a former charter school principal;
Dan Gilbert attorney
Karissa Holmes; Byron Osbern, an IBEW Local 58
business representative
; Quincy Jones, executive director of the Osborn Neighborhood Alliance; former Duggan campaign staffer and
political consultant
Graham Davis; Laura Hughes, vice president of staffing for Strategic Staffing Solutions; and Carol Weaver, an executive at Detroit Public Schools Community District.
When asked about the issues, Brad Williams, the Detroit Chamber's vice president of government relations, said in a written statement, "As the chamber of commerce representing employers in the city of Detroit, we engage in the races that help promote good government and economic prosperity for the city and region."
Among candidates who are concerned about the misinformation and inflow of cash from a right-leaning organization is Chase Cantrell. He alerted
Metro Times
to the issue and on social media questioned the Detroit Chamber's motives.
"I think we should be deeply concerned about the Chamber using their dollars and authority in this kind of space with phrases like 'Protect Detroit' or 'Protect Our Elections,'" Cantrell wrote on Facebook.
Richard Mack Jr. is also running for a seat, and a slate called The People's Slate is running candidates who are not backed by big business and claim to be representing everyday residents' interests. They include Underwood, Nicole Small, Tracy Peters, Taylor Harrell, Barbara Anne Wynder, and Denzel Anton McCampbell.
Eliminating civilian oversight of the Detroit Police Department
Protecting the Detroit Board of Police Commissioners is one of candidate Underwood's campaign focuses. She claims Duggan is in favor of eliminating or weakening citizen police oversight because of a recent conflict over police towing.
"I fear that the police commissioners are in jeopardy of losing everything ... and that's part of my platform — I want to protect the police commissioners," Underwood says.
Police Commissioner Bill Davis says he's also heard that that's a Duggan administration goal, though Davis says he only has secondhand information at this point.
"When I get the chance, I'll ask [Duggan] directly," Davis tells
Metro Times
. "A lot of people in general are talking about this. It's one of the things that has been percolating. I do think, if anything, the Board of Police Commissioners should be strengthened instead of diluted or eliminated."
Willie Bell, chair of the Board of Police Commissioners, says he's heard the same discussion, but he isn't convinced it's true. He says the board maintains a good relationship with Duggan.
"I don't see any merit to that because that is a foundation of the charter going back to 1973," Bell says. "If anything, the board needs to be reviewed to be more stringent."
But Bellant says he isn't convinced, noting, "The mayor is known to not support an elected police commission, the police chief doesn't support it, and he doesn't want to be held accountable in that way."

Community benefits
Each year, Detroit gives away hundreds of millions of dollars in tax incentives to wealthy developers like Gilbert and Ford.
Some residents are pushing for stronger community benefits agreements, which require developers who receive tax breaks to make significant financial contributions to community-based projects and programs.
A proposed 2016 ordinance would have done so and nearly passed, but it failed after Councilmember Scott Benson put forth a watered-down version of the ordinance that was ultimately approved.
The charter revision process is one way to require stronger community benefits agreements, which is why many suspect Gilbert and other developers have an interest in the charter process.
"[Developers] are very keen and alert to the charter revision's implications and language could require them to share some of their resources with the public," Bellant says, pointing to the Ilitches' District Detroit project as an example of a development for which the community received very few benefits. "We've done the same thing with a number of developments, so I'm certain that there are business interests that are trying to control the charter process, and those would be in alliance with the mayor."
Stay on top of Detroit news and views. Sign up for our weekly issue newsletter delivered each Wednesday.