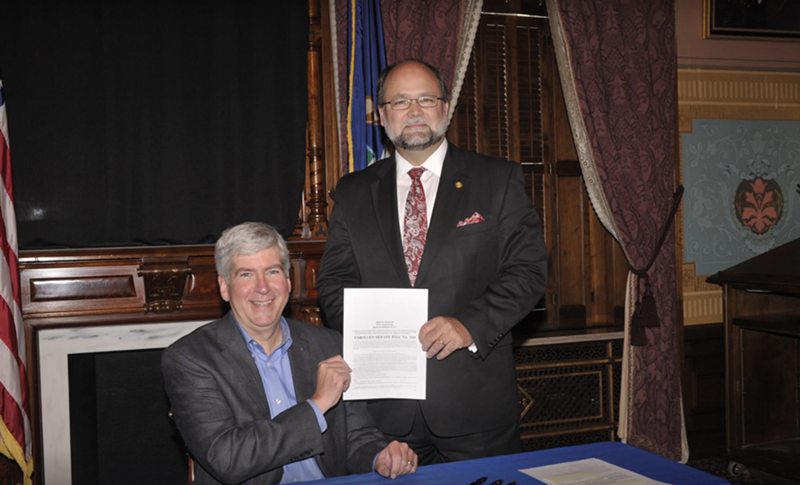 Arlan Meekhof/Facebook
GOP Senate Majority Leader Alan Meekhof and Rick Snyder: It never stops with these ghouls.
Gov. Rick Snyder signed a bill into law on Wednesday that will allow the state in partnership with Canadian oil giant Enbridge to build a controversial new oil pipeline planned for the Mackinac Straits.
The bill creates a Mackinac Utility Corridor Authority to work with Enbridge to build the $500 million tunnel 100 feet beneath the lake bed. The tunnel will replace Line 5, a pipeline originally installed in 1953 that runs along the bottom of the straits.
The Detroit News
reports that the new authority will be made up of three Snyder-appointees — two Democrats and one Republican, a breakdown the
News
characterized as an "olive branch" from Snyder to Democratic Gov.-elect Gretchen Whitmer.
However, it's tough for some to see that act as much of an "olive branch." Whitmer and Dems partly campaigned on decommissioning the current leaky pipeline, not building a new one. Dems swept state offices and won the popular vote in the state Senate and state House, indicating that voters approve of their plans. A poll released earlier this year found most residents
want the line shut down
.
The current pipeline has already
spilled 1.1 million gallons of oil into the lakes
. Critics say there's no need to replace the line because the infrastructure is in place to transport oil elsewhere, and the nation needs to wean itself of oil. The new plan comes with a risk of a major oil spill in the Great Lakes, but that doesn't seem to worry Republicans.
Enbridge is responsible for a 2010 oil spill in the Kalamazoo River, what was at the time the costliest inland oil spill in U.S. history, made worse when the company misread alarms and boosted oil flow for 17 hours. Since then, Enbridge has
missed line inspections
and downplayed damage to its pipelines, causing
Snyder to say
he was "no longer satisfied with the operational activities and public information tactics that have become status quo for Enbridge."
Stay on top of Detroit news and views. Sign up for our weekly issue newsletter delivered each Wednesday.