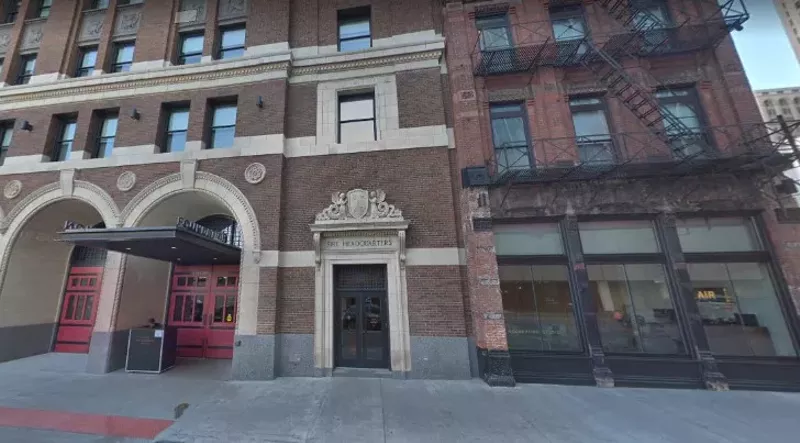 ©2018 Google
A view of Foundation Hotel in August 2018.
A civil rights lawsuit filed against the Detroit Foundation Hotel alleges management refused to promote black employees or allow them to participate in company functions, calling them "too dirty."
The downtown boutique hotel, which opened in 2017 in the old Detroit Fire Headquarters and was featured in
Time Magazine's
World 100 Greatest Places of 2018
, is being sued by former Human Resources coordinator Twana Simmons. She told the
Detroit News
that she had a "bird's eye view of the rampant racism."
Simmons witnessed several examples of racial discrimination, which included management's refusal to invite employees to the hotel's one-year anniversary party because they were "not polished enough" and "dirty." The hotel also specifically looked for a white brunette woman to hire for a top job, and refused to promote any of their black employees because they were "too dark."
The hotel fired Simmons last year after a dispute over the use of a facility within the hotel – but not before she voiced her concerns of racism among staff with other human resources officials. The
Detroit Free Press
reported that Simmons wanted to start a podcast to help the Foundation Hotel's image on race relations. She had received permission to record the podcast in the hotel's studio, but hotel management still accused her of using the facility without authorization.
Simmons filed the suit in federal court over violations of the Elliott-Larsen Civil Rights Act, which includes racial harassment and discrimination.
"Management takes the allegations seriously," a spokeswoman for the hotel tells
Metro Times
in a statement. "Foundation Hotel is an equal opportunity employer and works to create a dynamic environment for all employees and guests. While we are in active litigation, we can say we deny the allegations in this lawsuit."
Angela Zielinski is an editorial intern at Metro Times.

Stay on top of Detroit news and views. Sign up for our weekly issue newsletter delivered each Wednesday.