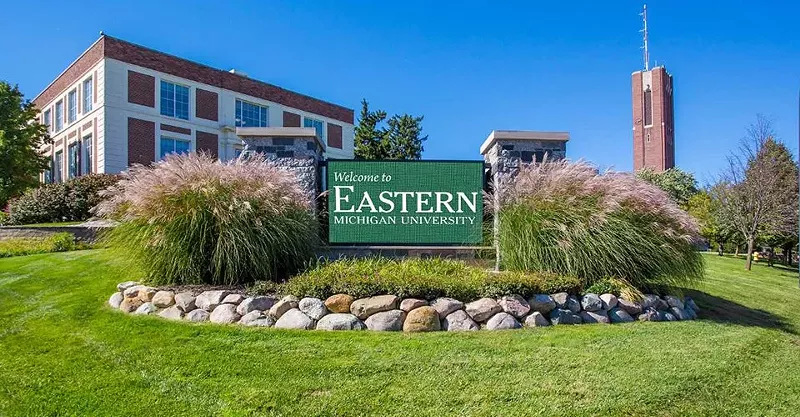 Courtesy of EMU
Eastern Michigan University.
Eastern Michigan University has launched an investigation after a black doll was found hanging from a shower rod in a dormitory.
A resident advisor found the doll inside a bathroom shared by suitemates in Best Hall, a dormitory for first-year students.
EMU police identified the culprit, who claimed it was a joke and not racial.
But EMU officials are not laughing.
"There is absolutely no place at Eastern for hateful and racist actions, regardless of their intent," EMU spokesman Geoffrey Larcom says in a statement to Metro Times. "At this time, the University continues to investigate the incident and will take appropriate steps upon completion of the investigation."

It's one of the latest high-profile investigations into racist symbols. This week, General Motors announced that it's offering a $25,000 reward for information about nooses and "whites-only" signs that were found at its plant in Toledo.
In 2016, EMU students protested after a staff member found "KKK" and "Leave Niggers" scrawled in graffiti on the side of an administrative building. Another racial slur was found in the stairwell of Wise Hall the following day.
An investigation later revealed it was a black student who painted the graffiti, who pleaded guilty to three counts of malicious destruction of property.
Stay on top of Detroit news and views. Sign up for our weekly issue newsletter delivered each Wednesday.