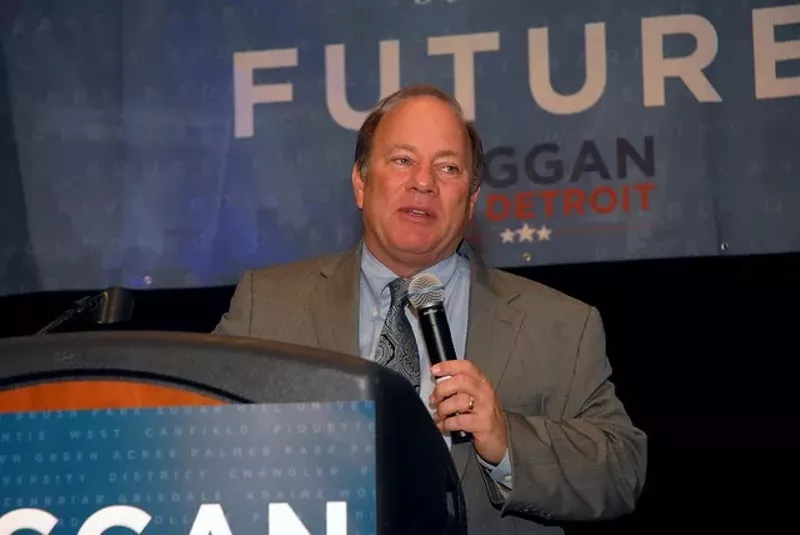 Flickr, Barbara Barefield
Detroit Mayor Mike Duggan.
Mayor Mike Duggan took to the stage Tuesday night for his sixth-ever State of the City address. The speech, held at East English Village Preparatory Academy, addressed issues plaguing Detroit, as well as the progress the city has made since filing for bankruptcy in 2013.
A hot topic of the address was more support for Detroit neighborhoods – something that Duggan's administration has been criticized for lacking in the past.
Duggan touched on the developments that will begin taking place along West McNichols Avenue, Islandview, Old Redford, and Jefferson-Chalmers neighborhoods, courtesy (in part) of the $85 million received in donations to the Detroit Strategic Neighborhood Fund.
Project Green Light, which began in 2016 as a paid opt-in surveillance service for eight Detroit businesses, has expanded to include more than 500 surveillance cameras throughout the city today. Duggan announced Tuesday that the city would be expanding its police surveillance with additional traffic cameras to be installed over the next two years by Detroit Public Works. By 2020, about 500 traffic cameras will be integrated with Project Green Light from "Warren all the way across the city, Greenfield, and East Seven Mile."
The program has received its fair share of criticism, however. In 2018, Eric C. Williams, the Detroit attorney leading the
ACLU of Michigan committee
argued that open-surveillance allows law enforcement agencies to have an "open-ended warrant without probable cause." Williams also argued that analysis of global crime data by
National Geographic
suggests that
city-wide surveillance
in places like China, London, and New Orleans found no proof that cameras protect anyone.
However, Detroit Police Chief James Craig held a press conference Wednesday morning reinforcing some of the adjacent successes to the Green Light program.
Chief Craig told reporters that video footage from current Green Light participating businesses have been used to apprehend criminals committing crimes unrelated to the businesses themselves.
Most recently, Chief Craig points to the
attempted abduction of a five-year-old girl
in Southwest Detroit in February. Police were able to use the cameras near Project Green Light businesses to track where the video footage is being used to find suspects.
"This is the wave of the future," Craig says. "This is how we're going to continue to drive crime down in Detroit."
"The message is simple: not in Detroit."
Stay on top of Detroit news and views. Sign up for our weekly issue newsletter delivered each Wednesday.