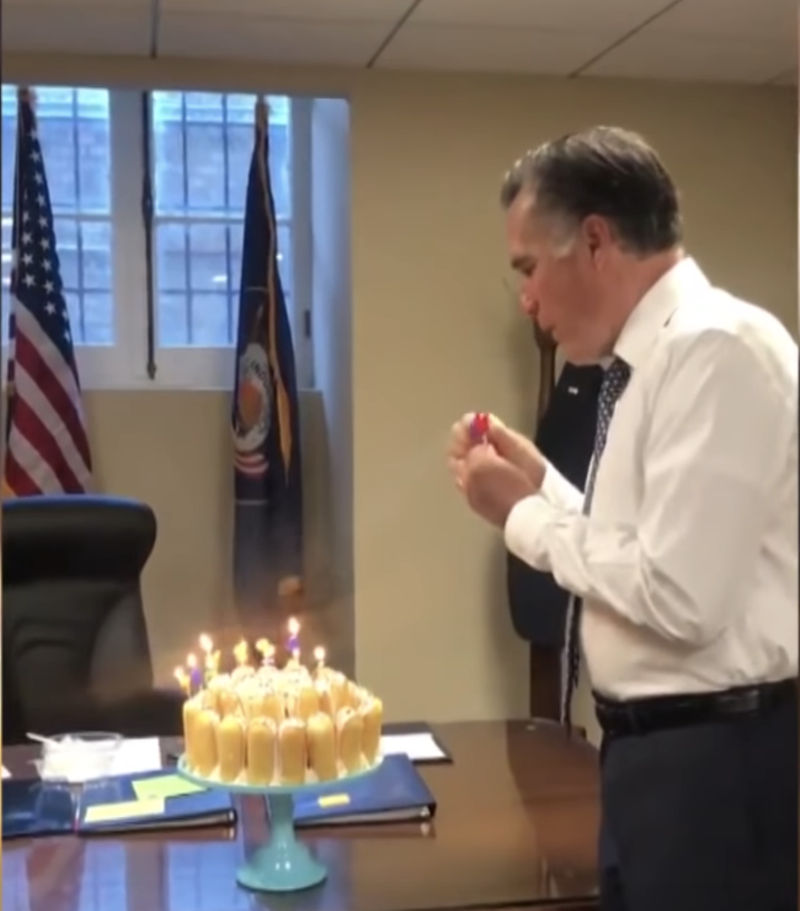 Senator Mitt "Binders full of women" Romney celebrated a birthday this week like a totally normal, not at all weird human.
Romney turned the big 7-2 on Tuesday and was surprised when his staff delivered a birthday cake made up of two dozen erect Twinkie's (his "favorite snack") complete with a totally average rendition of "Happy Birthday" — what followed is nothing short of remarkable (and
probably a rehearsed distraction to some other political garbage
but we'll take what we can get).
As the song concluded, Romney marveled at the kind gesture and the cake itself. Pretty normal, right? The 2012 Republican Presidential nominee then proceeded to gently remove each of the lit candles from the Hostess snake cake mound one by one, bringing each close to his face like a little secret so that he could blow them out.
"These are all wishes I'm getting," Romney said as he collected candles in his hand while also continuing to blow at the entire cake from afar.
A number of folks put their true crime podcast listening to use:
Even this grandma trolled Romney's wish-hoarding ass:
Others are more concerned about his environment.
Turns out he's actually always been kind of a weird dude.
And a shitty dude.
Following the incident,
Romney explained to TMZ
that the reason behind his technique is far less endearing than the video made us believe.
"Very simple: I have a bit of a cold and I didn't want to spray my germs all over the Twinkies for everybody else to eat," he claimed, adding that he also wanted to take advantage of the cake's many wishes.
"It was a tw0-for."
Looking back on this, at times, wild emotional ride, we think the nation can agree on one thing: A cake made of Twinkies is the most disturbing part of Romney's celebration.
Stay on top of Detroit news and views. Sign up for our weekly issue
newsletter
delivered each Wednesday.