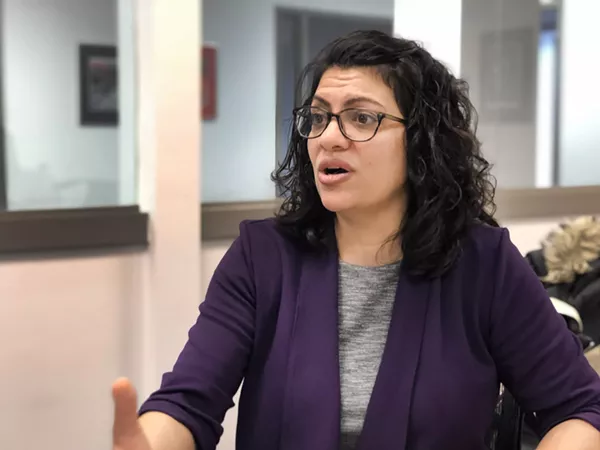 Steve Neavling
Rashida Tlaib.
Rashida Tlaib over the weekend slammed top Democrats for failing to defend Minnesota Congresswoman Ilhan Omar from Islamophobic attacks by Donald Trump and other Republicans.
Omar and Tlaib are the nation's first Muslim Congresswomen, and Omar is facing criticism for comments regarding 9-11 that Trump and other Republicans
have taken out of context
.
"They put us in photos when they want to show our party is diverse," Tlaib wrote in her Saturday tweet. "However, when we ask to be at the table, or speak up about issues that impact who we are, what we fight for & why we ran in the first place, we are ignored. To truly honor our diversity is to never silence us."
Last week, Trump and the
New York Post
, which is owned by Fox News media mogul Rupert Murdoch, each used images of planes crashing into the twin towers.
The Post
put the image on its front page while Trump on Friday tweeted a poorly edited video using Omar's out-of-context comments. Omar said she's been receiving more
death threats
since then.
Tlaib and other progressive Democrats, as well as
some 2020 candidates
, immediately defended Omar. By the end of the day Sunday, House Speaker Nancy Pelosi offered a mild rebuke of Trump that didn't mention Omar and
asked Capitol Police
to "safeguard" her.
The centrist Dem leaders silent on the controversy are mostly the same ones who in recent months criticized Omar over her comments about the influence of the pro-Israel lobby, some labeling her "anti-Semitic." However, they don't seem interested in speaking up when the president and GOP make Islamophobic attacks against Omar, who is a black woman. Most Democratic leaders
take a lot of money from the pro-Israel lobby
.
On Saturday afternoon, Omar offered a
clear explanation
of why she's standing up to Trump and other GOP leaders, even when her own party won't. She also thanked those who have rushed to her side.
"I did not run for Congress to be silent. I did not run for Congress to sit on the sidelines," she tweeted. "I ran because I believed it was time to restore moral clarity and courage to Congress. To fight and to defend our democracy."
"Thank you for standing with me ― against an administration that ran on banning Muslims from this country ― to fight for the America we all deserve," she added.

Stay on top of Detroit news and views. Sign up for our weekly issue newsletter delivered each Wednesday.