Michigan State Police / Facebook
Ex-trooper Mark Bessner during his Michigan State Trooper graduation in 2012.
The Michigan state trooper who caused the death of a Detroit teenager by Tasering him while he fled cops on an ATV was sentenced Monday to five to 15 years in prison.
Wayne County Circuit Judge Margaret Van Houten exceeded the sentencing guidelines of 19 to 38 months, telling former Trooper Mark Bessner that he "abused the public trust placed in police officers by your actions."
Wayne County Circuit Judge Margaret Van Houten
"Your actions make it more difficult for the thousands of men and women who put on a uniform and a badge every day to go out and perform their duties," Van Houten told a tearful Bessner. "It is the few officers like you who have caused the distrust of police officers that plagues our community in Detroit, the state of Michigan, and throughout the country."
In April, a jury found Bessner guilty of involuntary manslaughter in the death of 15-year-old Damon Grimes, whose four-wheeler struck a vehicle after he was Tasered on Aug. 26, 2017. Grimes, who was unarmed, died at the scene at Reno Street and Fairmount Drive on the city's east side.
Bessner violated a state police policy that prohibits troopers from deploying a Taser at a moving vehicle. Neither the jury nor the judge believed Bessner when he claimed he suspected Grimes had a gun because he reached for his waistband two times.
Bessner had a history of
using his stun gun inappropriately
and had been involved in
40 use-of-force incidents
in less than four years.
In Bessner's first trial, jurors were unable to reach a verdict and the case was declared a mistrial on Oct. 31.
Before he was sentenced, Bessner turned around to face Grimes' family and apologized.
"I am truly sorry," Bessner said, crying. "I think about this every day. If there was a time machine I could jump into and change the outcome, I would. But I can't."
Bessner said he "can't imagine losing a child" and told the judge that he misses his "beautiful and loving wife" and their 5-year-old daughter, Samantha, whom he called "my soul."
Moments earlier, Grimes' sister Dezjanai Grimes broke down while addressing Bessner.
"You have devastated this family for life," she said. "Imagine waking up every day for the rest of your life with your heart aching. The way Damon left us is so unbelievable and unbearable."
She added, "Your job was to serve and protect, but you used your authority to kill our loved one. … Our hearts are broken forever."
Just a month after Grimes was killed, the director of the Michigan State Police, Col. Kristie Kibbey Etue, complained on Facebook about NFL players who were participating in national anthem demonstrations over racial inequality.
She described them as "a bunch of rich, entitled, arrogant, ungrateful, anti-American degenerates."
The comments shed light on the lack of diversity within the state police ranks. State records show that only 6.5 percent of the state police force is Black, while African-Americans make up 14.2 percent of Michigan's population.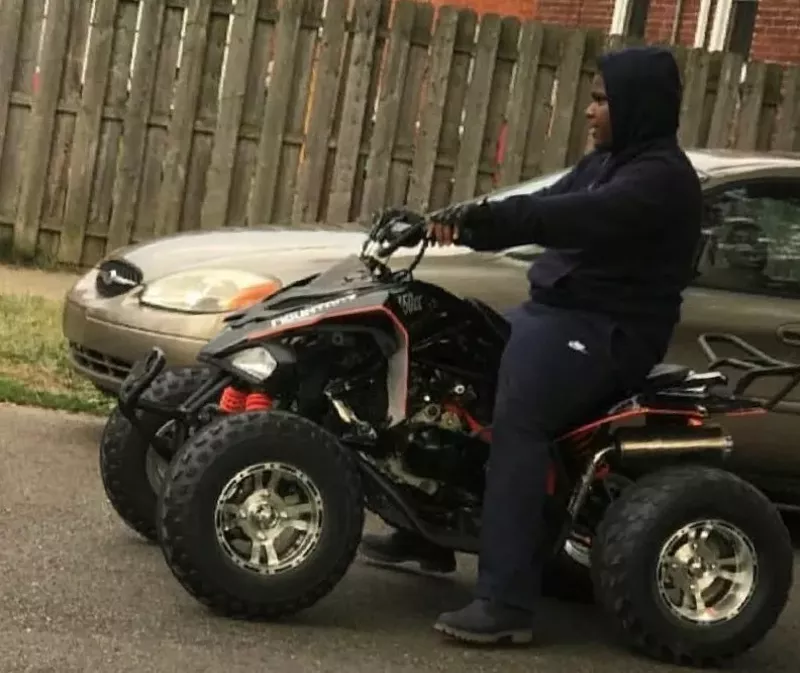 Courtesy of family
Damon Grimes on his four-wheeler before he died.
Stay on top of Detroit news and views. Sign up for our weekly issue newsletter delivered each Wednesday.