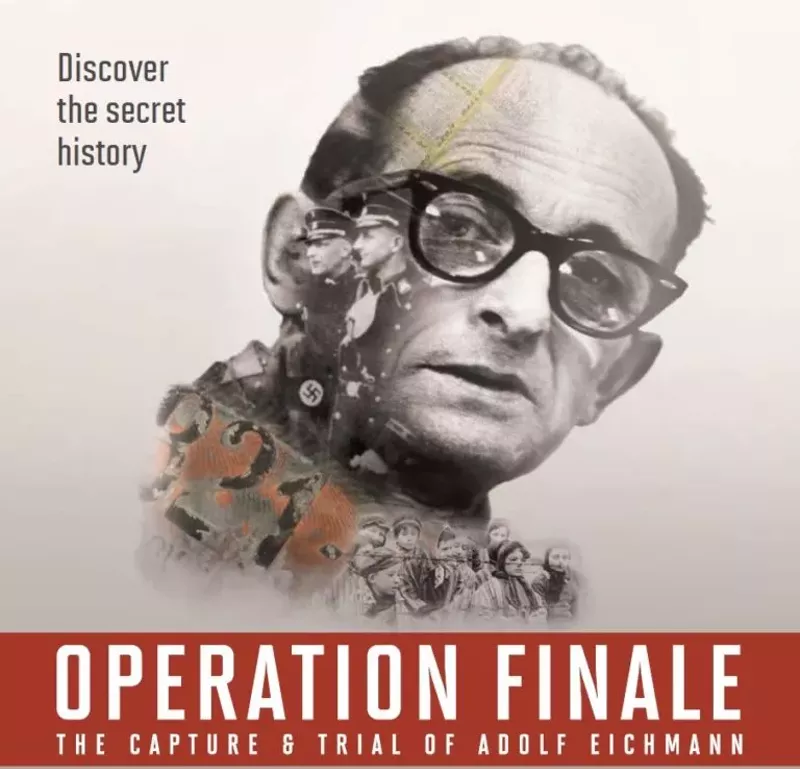 Courtesy of The Holocaust Memorial Center
A continent-spanning search for a heinous war criminal ends in conviction at
Operation Finale: The Capture and Trial of Adolf Eichmann
. Now on exhibit at the Holocaust Memorial Center in Farmington Hills, this one-of-a-kind experience tells the story of the Mossad agents who broke international law to capture and bring Adolf Eichmann — the architect of the Holocaust — to stand trial in Israel.
During World War II, Eichmann led the Nazis' "Jewish Department," meticulously planning every detail of the transportation and killing of millions of innocent people in the Holocaust. After the war, he escaped to Argentina, living as a free man under an assumed identity with his family on the outskirts of Buenos Aires.
That is, until a blind man's tip to the Mossad — Israel's national intelligence agency — prompted a group of agents to go undercover to abduct and smuggle Eichmann out of the country and into Israel to finally face justice for his crimes.
Operation Finale
takes exhibit-goers behind the scenes of one of history's most important covert missions. Using recently declassified documents, photographs, and audio recordings, attendees can interact with the very items that led to a Nazi war criminal's downfall. The exhibit also immerses viewers in the courtroom where Eichmann was tried, down to a chilling replica of the bulletproof glass booth where he sat throughout proceedings before being sentenced to death by hanging.
On display now until June 7th at the Holocaust Memorial Center in Farmington Hills,
Operation Finale
provides an opportunity to witness the lengths one heroic group of men and women went to avenge the lives of millions. This engagement also marks the last time the exhibit will be shown in the United States before being dismantled and returned to collections across the world.
To purchase
Operation Finale
tickets, and to learn more about the Holocaust Memorial Center, please visit
holocaustcenter.org
.
The Holocaust Memorial Center is located at 28123 Orchard Lake Rd.,
Farmington Hills, MI, 48334.


We have a new events newsletter! Find out the best things to do in the area every Thursday morning in your inbox.