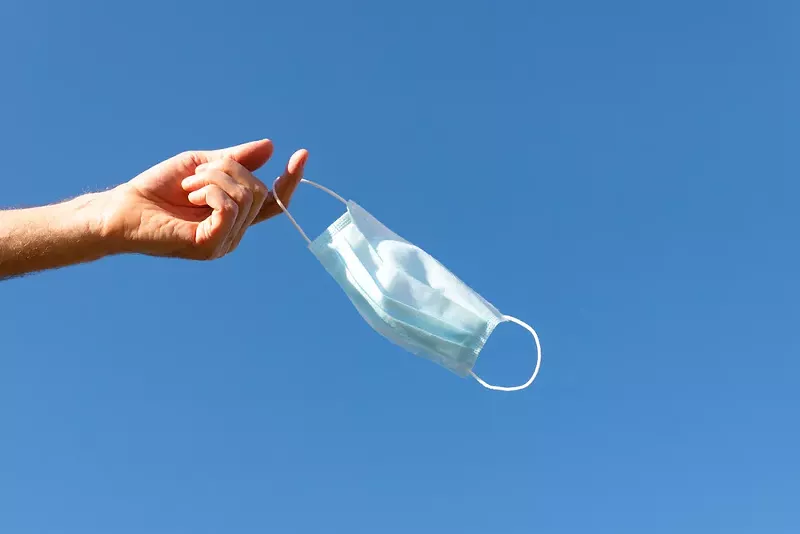 Shutterstock
You can put your masks and hand sanitizer away.
Michigan dropped the majority of its COVID-19 orders on Tuesday, ending a 15-month battle against the virus that has killed more than 20,000 in Michigan and more than 600,000 in the U.S.
There are now no more mask requirements and no more capacity restrictions on indoor or outdoor gatherings.
Governor Gretchen
Whitmer revealed the news in a surprise announcement last week
, ending the restrictions ahead of the previously announced schedule. An original plan called for ending restrictions when 70% of the state's eligible population had become vaccinated, which was later changed to July 1 — before Whitmer pivoted again and announced the restrictions would be lifted on Tuesday, June 22, instead.
Curiously, the decision wasn't made because we reached the goal of 70% early. In fact, only around 60% of the state's eligible population has received at least one dose of the vaccines. (Experts say
people should get both doses of the two-dose Pfizer-BioNTech and Moderna vaccines
for them to be as effective as possible, and it's likely
we'll need a booster shot
at some point.)
In fact, the state's largest city, Detroit, is woefully behind — only 39.2% of Detroiters have been vaccinated, while the suburbs have rates closer to 70%. But the virus numbers in Michigan are at their lowest since the start of the pandemic, about 140 new cases per day, seven-day average.
Michigan has confirmed 25 cases of the highly contagious "Delta" variant
,
which
is expected to become the dominant coronavirus strain
in the world this summer.
As Detroit's former health director, Dr. Abdul El-Sayed writes,
"Every single unvaccinated person presents an evolutionary opportunity for the virus."
We've been banging this drum steadily for months, but if you haven't gotten vaccinated yet, make a plan today.
You can find vaccination sites at
Michigan.gov/COVIDVaccine
and
VaccineFinder.org
.
Stay connected with Detroit Metro Times. Subscribe to our
newsletters
, and follow us on
Google News
,
Apple News
,
Twitter
,
Facebook
,
Instagram
, or
Reddit
.