Aaron Webb, Flickr Creative Commons
The last game at Tiger Stadium.
I was there the night the Tigers won the pennant. So was my buddy Jon Reischel. Neither of us were born yet, but our pregnant parents were at
that historic game against the Yankees
in 1968. And although we couldn't see a thing (on account of our obstructed-view seats), Jon and I did as Ernie Harwell said:
We listened to the bedlam there at Tiger Stadium.
After Kaline scored the winning run, Jon's dad ran onto the field and somehow wound up with Tigers pitcher Jon Warden's hat, which had fallen off his head
amid the madness
. Mr. Reischel handed it back to Warden, who quickly snatched it back and scampered into the clubhouse.
Upon meeting again more than four decades later, both men still remembered the hat.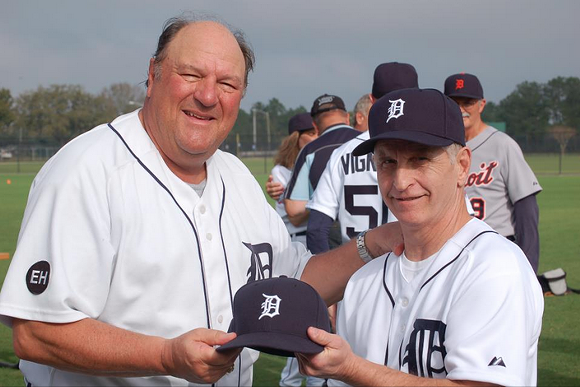 The Reischel Collection
Former Tiger Jon Warden, left, and Steve Reischel at Tigers Fantasy Camp, 2013.
My parents were sitting in the lower deck of the left field stands that night,
right behind Willie Horton
. In the bottom of the ninth inning, my mother had to use the ladies room. (She always had impeccable timing.) Amid the pandemonium after Don Wert's game-winning single, the lights went out and my parents lost each other in the crowd. It took some doing, but they were eventually reunited during the postgame fireworks.
I like to say that was my first Tigers game.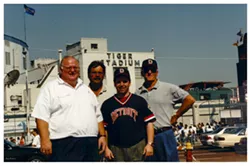 The Reischel Collection
My childhood friend (and fellow second baseman) Jon Reischel, second from right, before the final game at Tiger Stadium, Sept. 27, 1999.
More than three decades later, in 1999, with my father long gone and my mother living out her last days in a run-down nursing home on the boulevard, I made the trek down to Tiger Stadium one last time to pay my final respects.
My girlfriend and I sat, of course, in the lower deck of the left field stands. The stands where
Dancin' Gus
hawked his Hygrades. Where
Horton made his famous throw
. Where
Herndon made his famous catch.
Sometime around the top of the eighth (family tradition) I had to use the men's room. Clad in my Fidrych jersey (
deal with it, Barlow
), I weaved my way through the mass of humanity in the grandstand. There I wiggled past a towering, long-haired man in a Black Crowes jersey. It was Eddie Harsch (
sans bandages
). It seemed like there were as many people in the concourse as there were in the stands.
Kevin Costner
was there that day.
Tom Selleck
was there. Hell,
Tom Wopat
was there. Everybody was elbow to elbow, sweltering and swooning and savoring. Every beer, every dog, every pitch.
Just before I hit the troughs ...
I suddenly found myself face to face with my boyhood idol, Mark "The Bird" Fidrych.
Grinning from ear to ear, The Bird, clad in street clothes and spotting the jersey on my back, threw his arm around me like a long-lost friend. I quickly turned and reversed course, walking arm in arm through the Tiger Stadium concourse with the 1976 Rookie of the Year.
The Bird, towering over me, thanked me for coming to
the final game.
I thanked him back and wished him a safe trip back to Massachusetts.
And with that, he flew the coop.
Dumbstruck and awestruck, I turned around to find the men's room. Eddie Harsch was standing right where I'd left him. The Black Crowes' keyboard player was also grinning from ear to ear as he told me how he'd seen the whole thing unfold.
"Man, there's
The Bird
in his street clothes, and there's you in
the Bird jersey!
"
That's what it looked like to him.
Here's what it felt like to me:
It was a surreal moment in a surreal day.
Unlike my mother, I quickly found my way back to my seats and back to my girlfriend in time for the bottom of the eighth. With the bases loaded and one out, I pressed my transistor radio to my ear as Robert Fick stepped to the plate.
I can still hear the crack of the bat.
Fifteen years later, Fick's majestic grand slam off the right-field roof still reverberates throughout Detroit. After more than a century of professional baseball at the corner of Michigan and Trumbull, it was the last hit at Tiger Stadium, one that echoes through the ages.
In the top of the ninth, amid a chorus of catcalls and a sea of flash bulbs, Tigers closer
Todd Jones struck out Kansas City's Carlos Beltran
, and a storied era came to a storied end. Tigers catcher Brad Ausmus, sporting Bill Freehan's vaunted number 11, caught the final out.
The Tigers all congratulated one another, mounted police surrounded the field, and grown men throughout the ballpark shed tears in their seats.
Like the sign said
, there
was
crying in baseball that day.
In a moving postgame ceremony, dozens of former Tigers came onto the field, dressed in their uniforms for one last time. Trammell and Whitaker, Kaline and Kell, Herndon and Horton. Septuagenarians, octogenarians, nonagenarians. But the first Tiger to run out on the field from the center field flagpole, dressed in his iconic number 20, was none other than The Bird:
In his inimitable gait, Mark Fidrych rambled out to the pitcher's mound one last time, the same mound where he ruled the roost for
that magic bicentennial summer of '76
, and scooped up a bagful of dirt to take home with him.
Then out in left field came his former teammate — the man who would later eulogize him, Detroit native Willie Horton. A pivotal figure in the '67 riots and one of the heroes of the '68 World Series, Horton reluctantly ran out to his old position.
He'd said he didn't want to go through with it; that it would just be too emotional. But his old teammate Aurelio Rodriguez talked him into it.
As Horton trotted across the outfield, the grandstand shook with thunderous applause. Hands on his head and tears in his eyes, Horton came to a stop alongside former Tiger Larry Herndon and took a breath. Both men, left fielders and world champions of different eras, faced the stands and stood erect, clad in their classic home whites and Old English D.
Sensing the adoration of the fans and the finality of the scene,
Horton was overcome with emotion.
It was that kind of day.
If you were there that day at Tiger Stadium, it's something you'll never forget.
"Farewell, old friend," said Ernie Harwell.
"We will remember."
Harwell's words, like Fick's home run, echo in my mind all these years later.
Tiger Stadium was more than just a ballpark. It was a historic landmark
that could've been preserved
. ...
That should've been preserved
— in its original Navin Field configuration:
But like so many historic Detroit landmarks, it's gone now, the only remnant
the 125-foot flagpole
that stands in center field.
When Tiger Stadium was demolished in 2009, the city-owned site quickly fell into disrepair. By the spring of 2010, the historic corner of Michigan and Trumbull had become a 9-acre vacant lot filled with garbage and weeds, many of them 6- and 7-feet tall:
With the city on the verge of bankruptcy and the Tigers turning a blind eye to their historic home, a ragtag band of volunteers stepped up to care for the Corner. I'm proud to say I was one of them.
Led by a local mailman named Tom Derry
, the Navin Field Grounds Crew, over the course of the last four years — and despite
the city's initial protests
— has lovingly and painstakingly restored the site from a field of weeds to a field of dreams.
Today Navin Field is not only a tourist attraction for baseball fans from around the world, it also hosts baseball games of all kinds, from little league to big league to vintage games played by the rules of 1860.
Some folks even get married there: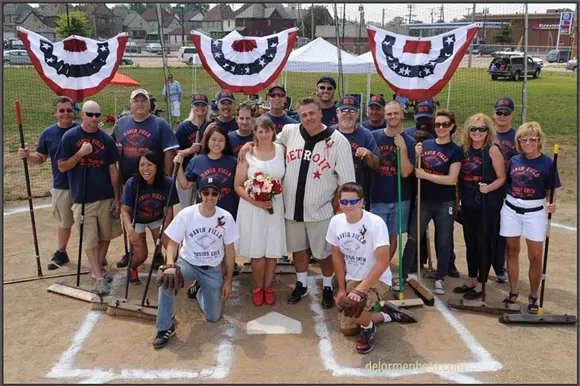 In recent months, former Tigers Mickey Lolich, Lou Whitaker, Pat Sheridan, Ike Blessitt, Dave Rozema, and Denny McLain have all visited the old field and paid homage to the site of their greatest triumphs.
John Wockenfuss received a hero's welcome:
To many of its visitors, Navin Field isn't just the site of an old ballpark. To dozens of pilgrims from around the state and around the world,
it is truly sacred ground
, as evidenced by the repeated scattering of ashes.
Fifteen years after the final game, the future of Navin Field remains uncertain. It could become a new headquarters for the Police Athletic League. It could become a condo development and a dog park. Or perhaps it could remain a baseball diamond and tourist attraction maintained by local volunteers.
In the long and storied history of the Corner, there are new chapters yet to be written.
The only question is who's on deck.
---
Dave Mesrey is Metro Times' copy editor and a founding member of
the Navin Field Grounds Crew.