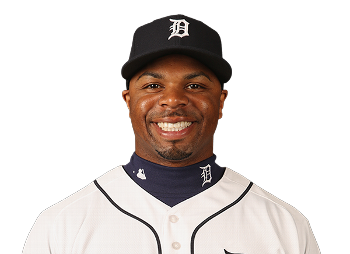 espn.com
Speedster Rajai Davis is the X-factor in the ALDS.
Tigers manager Brad Ausmus and Orioles skipper Buck Showalter have announced their starting lineups for Game 1 of tonight's best-of-five American League Division Series. Hobbled Tigers outfielder
Rajai Davis
is in the lineup, batting ninth and playing center field.
First pitch at Baltimore's Camden Yards is scheduled for 5:30 p.m.
We suggest you tune down the volume on
TBS
and
turn up your radio
to
Dan Dickerson
with the play-by-play on 97.1 FM.
DETROIT
1. Ian Kinsler, 2B (RH)
2. Torii Hunter, RF (RH)
3. Miguel Cabrera, 1B (RH)
4. Victor Martinez, DH (SH)
5. J.D. Martinez, LF (RH)
6. Alex Avila, C (LH)
7. Nick Castellanos, 3B (RH)
8. Andrew Romine, SS (SH)
9. Rajai Davis, CF (RH)
Starting pitcher, right-hander Max Scherzer
BALTIMORE


1. Nick Markakis, RF (LH)
2. Alejandro De Aza, LF (LH)
3. Adam Jones, CF (RH)
4. Nelson Cruz, DH (RH)
5. Steve Pearce, 1B (RH)
6. J.J. Hardy, SS (RH)
7. Ryan Flaherty, 3B (LH)
8. Nick Hundley, C (RH)
9. Jonathan Schoop, 2B (RH)
Starting pitcher, right-hander Chris Tillman