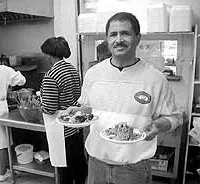 MT photo: Larry Kaplan
Carib Bakery: tasty island fare.
I learned a few things this month at the Carib Bakery, which is not just a bakery but also serves a range of West Indian takeout.
"What do you call that starchy white plantain?" I asked Jamaican-born owner Richard Ruddock. I was familiar with the sweet, yellow, fried and sliced plantains that come with every dinner.
The white version, however, was still in phallus form and tasted more like a bland potato than anything else. Undoubtedly some exotic West Indian food, perhaps akin to the breadfruit?
"That's a banana," said Ruddock. "A plain, green banana."
OK. What about those delicious kidney-shaped white beans served with the oxtail?
"Those are butter beans."
Surely not the nasty vegetable my mother called butter beans, aka limas, the very thought of which could reduce me to tears?
No, not your ordinary green limas, Ruddock assured me; he buys his specially from a wholesaler in Dearborn who supplies West Indian foods. Whew, glad not to have to revise my childhood opinion of lima beans.
Carib Bakery's butter beans are wonderful, mild and rich – buttery, say. There aren't enough of them – they're mixed with rice – and of the dinners I ordered, they came only with the oxtail.
Carib Bakery's dinners – meat or fish, rice, plantains, bananas and mixed vegetables – are large, filling, cheap and generally delicious.
I liked the curry dishes (chicken, goat and shrimp) better than the jerks (chicken and pork). The jerk chicken seemed to be hot and not much else; the goat curry, on the other hand, contained a number of flavors in friendly competition.
For the next fast-food craze, I'd like to nominate patties – the Jamaican calzone (every culture has one). It's a spicy beef or chicken filling in a simple half-circle-shaped shell, for $1.50; I guess that some type of fat is involved to make it taste so good.
Also on the menu board (no paper menus, no faxing) are kingfish and snapper, pot roast, "fric chicken" and beef soup.
I found the skin texture of the snapper unappetizing, and look out for bones (also in the goat and oxtail).
The soup is good and thick, rich but not spicy. Ruddock's vegetables certainly look like frozen mixed vegetables with some cabbage and onions added, but they taste good.
The bakery sells a variety of breads and cakes, including hard dough bread, a dense white which is more interesting than most bakery whites; bulla cake, a dark, round spice cake scarfed down by family members who usually scorn non-chocolate desserts; and sock-it-to-me cake. I don't recommend the bread pudding, however.
Ruddock says that 40 percent of his clientele are Americans, as opposed to West Indians. This didn't seem to be the case on the Saturday evenings I dropped in, going by accents. Most diners seemed to be people eager for a taste of home.
You can also pick up fliers on all the current Jamaican music in town, live from Kingston. If your winter vacation plans don't include a trip to the islands, stop by the bakery for a less expensive taste of the Caribbean.
Jane Slaughter dines for Metro Times. E-mail letters@metrotimes.com.