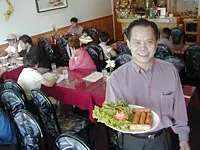 Metro Times Photo / Larry Kaplan
Thuy Trang: Owner Son Nguyen serves cha gio (crispy egg rolls).
Vietnamese cuisine is perfect for the dog days of summer. It's refreshing, with recurring themes of sweet, savory and citrus. Many dishes are served with crisp lettuce leaves, sprigs of mint and basil, slices of cucumber, crunchy mung bean sprouts and shredded carrots.
Thuy Trang offers terrific food in a strip-mall setting. Owner Son Nguyen came to the United States in 1979, and his first job was cutting mushrooms in Imlay City. For seven years he worked two jobs so he could send money to his parents in Vietnam.
The restaurant, which opened in 1998, is named for one of his daughters. His wife and brother-in-law are the cooks.
The restaurant has a long menu, and you're kind of on your own when it comes to ordering because no one speaks much English at Thuy Trang. The menu is cryptic at best, full of misspellings and mistranslations. What, for example, is "soft tendon?"
Dining with my 13-year-old one evening, she asked if I thought she would like pho xe lua, which was described as "supersize rice noodle soup with beef" on the menu. I knew that pho is a versatile soup, eaten for breakfast in Vietnam, with the hot broth cooking the ingredients right in your bowl.
Here, it was served with a platter of fresh greens and herbs which you add at the table. But imagine her distress to find tripe in the bowl. She set her soup aside and shared my order of bo nhung vi, paper-thin slices of beef which you grill in butter at your table and then wrap in rice paper with fresh greens and vermicelli.
We sat staring at many parts of this dish until Son Nguyen politely explained that we had to cook our own. He got us started, and we had great fun. Rice paper is easy to work with; it doesn't tear like egg roll wrappers.
It is unfortunate that the atmosphere distracts from the fine food served at Thuy Trang. I generally like the unpolished setting, but we found the service lacking. One evening we did not have any serving utensils and had to reuse tiny plates for our various dishes. We were irritated by hearing "Popeye" on the tube.
On another visit we brought along friends who had recently traveled to Vietnam to help us sort through the extensive menu. Otherwise, we never would have ordered the green papaya salad; a Vietnamese classic, they assured us. Unripe papayas are shredded and dressed with a sweet vinaigrette. It's tossed with mint and basil and cold, cooked shrimp, and topped with finely chopped peanuts and slices of hot pepper. This wonderful salad brings together those themes of sweet and savory.
Another roll-your-own dish was chopped shrimp grilled with sugar cane. It was served on a bed of snow-white vermicelli, the grilled shrimp already sliced and presented with rice paper, fresh greens and aromatics.
Dessert is not big in Vietnam, but check out the drinks. A pineapple shake for $2 is like having a big bowl of sorbet. Jackfruit shake has an apple flavor, while the lemonade is thin and tart. Another classic is the triple-color bean drink, which looks like a lava lamp, but surely tastes
better.