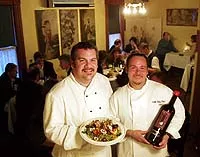 Metro Times Photo / Larry Kaplan
Little Italy
Consider the ingredients of carbonara sauce — eggs,
parmigiano
,
pancetta
(bacon), cream — and think of your heart. This is how owner and chef Jeff Jepko makes carbonara at Little Italy, coating thick ropes of
bucatini
that are perfect for the thick texture of the sauce.
Most people sneer when I tell them that the carbonara recipe I learned, and used often until I started knowing about cholesterol, uses bacon grease in place of cream. This must be the poor woman's version; nothing is wasted. Still, I prefer it — if you're going to risk cardiac arrest at all — because hot bacon grease lends more flavor than cream. (I come from a home where my mom kept a tin on the stove that was specially designed for saving bacon grease, so there was always some available for frying your French toast. Those who consider this background a disqualification for the profession of food reviewer need read no further. But try it once.)
This is not to take anything away from the food at Little Italy, which is splendid. I enjoyed my carbonara very much, and the seafood and the eggplant appetizer and the star-shaped dessert even more.
These thoughtfully prepared dishes are expertly served in a narrow, old frame house ornamented with jeroboams of Italian red. On a Saturday night it's packed, and Jepko is building an addition at the rear to accommodate his many fans.
Take the zuppa de pesce — and if you're on a budget, this would be a fine meal all by itself. Mussels, calamari and fish join in a thick tomato broth with a strong wine flavor. It's heavenly. Also heavenly is the spicy shrimp-artichoke hearts-squid appetizer with sun-dried tomatoes and roasted peppers. What's notable about both of these is that each flavor stands out on its own.
Our very professional server recommended the Chilean sea bass in an olive oil-white wine-garlic sauce. She was right. The bass serves as a bed for shrimp and roasted peppers and melts in your mouth, with lots of sauce for sopping with the excellent salty-crusted bread from Giuseppe's Bakery in Novi.
Backing up a bit: the evening begins with an antipasto plate that includes mortadella, a superb eggplant dip, crunchy white beans, olives and peppers.
Any of the salads are good, although the simple house salad's dressing is a bit sweet. Insalata caprese is fresh, very mild mozzarella — the texture is quite different from the mozzarella you know as a pizza topping — with tomatoes and stunning fresh basil. Insalata fantasia is fancier, with pine nuts and goat cheese. The calamari fritti make a fine (enormous) appetizer, with a pungent mustard-mayo dipping sauce.
I found the minestrone a bit disappointing — although only compared to the high quality of everything else (carrots too soft). Likewise, our usually reliable server promised that the tiramisu was "better than any other restaurant's." It was not, though I wouldn't kick it out of bed. Its chocolate sauce actually tasted like Hershey's.
Better — in fact, exquisite — was the raspberry sorbet (not bright pink) covered with dark chocolate and drizzled with raspberry sauce. This one is star-shaped, to distinguish it from the heart-shaped "Amore," which sounds similar but includes chocolate ice cream too.
With its small rooms, Little Italy can have a romantic feel, so Amore would be a perfect ending to a dinner for two. To help the evening along even more, the award-winning wine list of more than 300 varieties is also available for take-home. Open for dinner every day, and for lunch on weekdays.
Jane Slaughter dines for Metro Times. Send comments to [email protected].