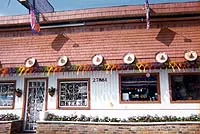 Photo / Luis A. Gomez
Margarita's Mexian Restaurant
Located right smack in the middle of the Woodward corridor suburbs is a Mexican restaurant that would never even dream of pandering to the Chi-Chi's crowd. This is authentic Mexican cuisine that is heavy on the veggies and true to its roots. This place is right under your nose — don't miss it a second time.