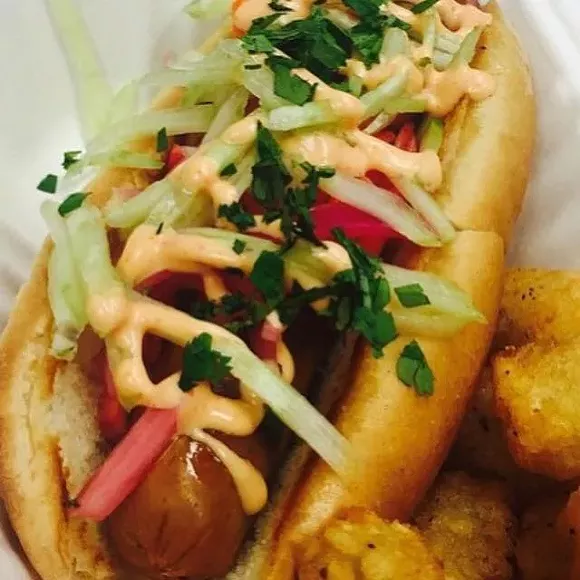 When it opened a year ago
, Corktown's UFO Factory teased a kitchen that would serve gourmet "Laika Dogs." (You know, as in Laika,
the first dog in space
. Laika ... UFO ... get it?) Anyway, while UFO's kitchen went under construction, its resident chefs prepared the dogs on a patio grill, but during the coldest months they went away.
As of July, the kitchen was completed, and UFO Factory head honcho Dion Fischer dropped us a line to let us know they're now offering "back to school" specials. From 11 a.m. to 4 p.m. everyday, diners can get $1 off any order by using their smartphones to check in on social media. They'll also have a happy hour from 4 p.m. to 7 p.m. — the first PBR is just $1 with order of two menu items.
The kitchen is open every day from 11 a.m. to 10 p.m. Laika Dog even has its own website now at
laikadogdetroit.com
. Check the website for the full menu, which includes the Bahn-mi dog with pickled carrots, radishes, fresh cucumber, pickled red onion, cilantro, and spicy vegan mayo; or the PB&J, featuring a Thai-peanut sauce, raspberry ancho-mint jelly, and banana cashew crunch.
UFO Factory is located at 2110 Trumbull St., Detroit.