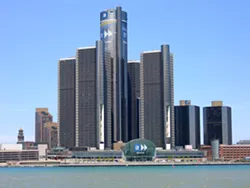 Granite City's largest location in the country is scheduled to open next month and it's in Detroit.
The brewery and restaurant nabbed a 16,000 square foot space in the northwest corner of the Renaissance Center, complete with a Jefferson-facing entrance. According to a press release, this brewpub will be the company's 35th establishment and its flagship location.
The location will include a dining room, full-service bar, three private dining areas, an open kitchen with a central wood-fired pizza oven, an on-site brewery, and an outdoor patio and will feature a unique menu with items not featured at other locations.