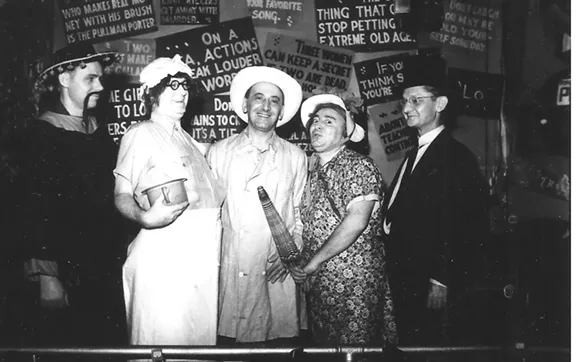 Courtesy of the Hamtramck Historical Museum
Hamtramck's reputation as a bar town is deeply rooted in the scofflaw days of Prohibition. At one time it's said that the tiny town 2.1 square miles had more bars per capita than any town in America, with taverns, beer halls, and shot-and-a-beer watering holes crammed into as many pockets as possible. Come Thursday, drunk history buffs will get a chance to hear all about Hamtramck's bars, past and present, during the Hamtramck Historical Museum's first Hungry for History program of 2016.
Historian Greg Kowalski has documented the evolution of all manner of bars - from the early Prohibition era, to more modern times when Hamtramck gained national recognition for its raging club and music scene.
The event takes place Jan. 28 at the museum at 9525 Joseph Campau. Doors open at 5:30 p.m. A catered dinner at 6 p.m. can be purchased for $15 (proceeds go to support the Hamtramck Historical Museum). The presentation itself is free and starts at 7 p.m. To make a reservation call 313-893-5027 or email hamtramckhistory@gmail.com.
UPDATE: We've been informed the event has been sold out, but due to the huge interest on the topic, an encore presentation, sans the dinner, may be announced in the coming weeks. We will be sure to keep you posted.