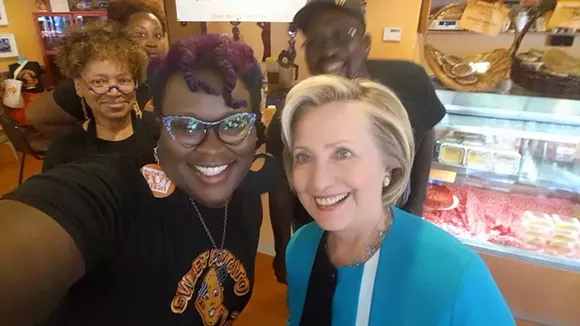 Sweet Potato Sensations/Facebook
Hillary Clinton during a stop at Sweet Potato Sensations over the summer.
Before heading to Flint on Sunday for the Democratic debate against Bernie Sanders, presidential candidate Hillary Clinton and husband Bill made the rounds at several local eateries.
Two days before her debate, Hillary Clinton swung by Detroit's Avenue of Fashion to pop into popular brunch spot Kuzzo's Chicken and Waffles, where she posed with kids and the ownership.
Meanwhile former President Bill Clinton made appearances of his own. On Saturday, he made stops at several West Village eateries, including Red Hook Detroit, Parker Street Market, and Detroit Vegan Soul, as well as in Dearborn at Westborn Market. On Sunday, he took selfies with the crew at Slows Bar-B-Q in Corktown.
Part of that urgency very well likely has a lot to do with the fact that several of these establishments are owned by African Americans, important because the Clinton campaign is banking on support from the black community.
Says the LA Times of her support among African American voters:
"Clinton enjoys overwhelming support among black residents across Michigan, the result of more than a generation of cultivation for her husband's political career and her own - and, not the least, her decision to join Obama's team after losing the Democratic nomination to him in 2008."