For many bargoers, the idea of doing anything more than relaxing in a chair and tossing back a few brews might sound like a little much. But for the action-oriented patron seeking a more engaging experience, bars abound with unique offerings that will have you up and off that stool at the counter. Behold: 10 cool game bars in Southeast Michigan!
1. All-Around Awesomeness: Punch Bowl Social - Downtown Detroit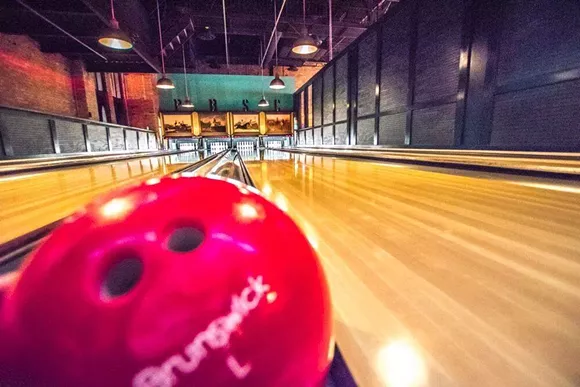 Credit: Punch Bowl Social - Detroit (Facebook)
Punch Bowl Social's classy interior, plethora of games, and wide offerings of good food and drink make it a great place to take a date or a group of friends.
If you're looking for a unique gaming experience, but don't want to sacrifice the amenities of a high class bar and eatery, look no further than the Punch Bowl Social downtown. This place has it all, from an inspired and acclaimed "gastro-diner" menu to an equally creative offering of cocktails and micro-brews, served at the four individual bars found throughout the sprawling building. The open and industrial style of the interior is cozied up by the warm lighting and furniture, making for an awesome atmosphere in which to enjoy yourself and play some games. Oh, yeah, the games. Punch Bowl Social features 10 bowling lanes, ping pong, darts, shuffleboard, arcade games, and karaoke rooms.
2. Arcade Crazy: Lucky Strike - Novi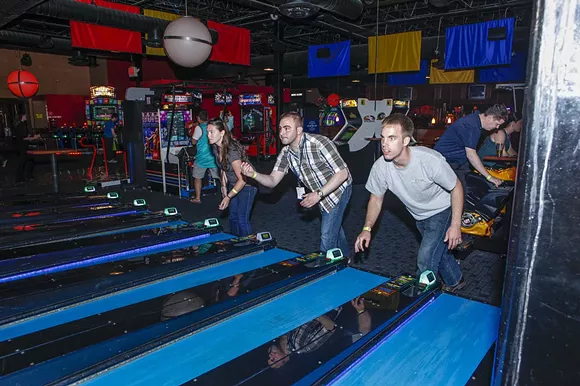 Credit: Advanced Vehicle Technology Competition (flickr.com)
Skee ball is just one of the many games at Lucky Strike.
Lucky Strike is a great choice for anyone looking for a bar dedicated to arcade games. Make no mistake, quality food and cocktails aren't lacking, nor is upscale decor and the numerous bowling lanes from which the establishment takes its name. But one step inside and you'll see this bars' true claim to fame- arcade games of all sorts and sizes. From classic retro games, to favorites like skee ball and air hockey, as well as newer shooting and racing games, this place has got it all. Stop by the front counter when you walk in to load up a credit card of sorts with points that can then be swiped at games to start playing. You'll never have to wander far to get a refill, either, with a bar situated conveniently in the middle of the game room. Lucky Strike also features several pool tables and a prize counter for redeeming your hard earned tickets.
3. Bowling with a twist: Fowling Warehouse - Hamtramck

Love to bowl? Love to drink? Love to toss the ol' pigskin around? If so, Fowling Warehouse just might be the place for you! Offering a unique blend of football and bowling known as fowling, (rhymes with bowling) the object of the game is to toss a football at a set of pins some distance away and knock as many down as possible. The huge warehouse is big enough to hold several 'lanes', so you shouldn't have too much trouble finding one to fowl on. Aside from the game, Fowling Warehouse sports a large, full service bar. They don't serve food, however, customers are welcome to bring their own and enjoy it at the numerous picnic tables inside.
4. For the true gamer: activ8 - Ferndale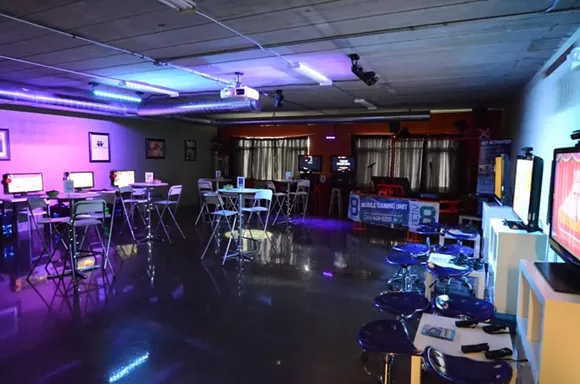 Credit: activ8 (Facebook)
There's no shortage of consoles, games and screens inside activ8's gaming lounge.
Not your average bar, activ8 actually terms itself a gaming lounge, and rightfully so. With several PS4s, Xbox Ones, WiiUs and high end gaming PCs, this is the place to go if you are really serious about gaming out in style. Make sure to bring some friends, too- entry is only by reservation, and large parties are encouraged. Although the bar component isn't the main focus, it's serviceable and certainly won't disappoint. Neither will the cool, futuristic interior accentuating the different game stations. Need a break from the screen? No problem. activ8 also features foosball, a full poker table, live music, board games and more.
5. Pinball Crazy: One Eyed Betty's - Ferndale

One Eyed Betty's is bar beloved by the residents of Ferndale and for good reason. The large community-style tables foster conversation and good times, and the casual, busy atmosphere is inviting and warm. The bar itself has almost 40 beers on tap with over 100 more in bottles and cans, not to mention the plentiful selection of whiskeys and wines. Regulars love the food and will tell you to make sure to try the brussels sprouts appetizer and the housemade doughnuts for dessert. Bring quarters, too. They've got pinball!
6. Historical game and grub: Cadieux Cafe - Detroit
The Cadieux Cafe is an old gem of a Belgian restaurant in Detroit renowned for its feather bowling. What's feather bowling, you ask? Similar to bowling, participants take several small balls and roll them down a lane, attempting to land closest to a small feather protruding from the ground. According to legend, feather bowling was originally a Belgian pastime, although today it is rarely played in Belgium and can only be found at one place in the United States- the Cadieux Cafe. Aside from the storied game played in the basement, the Cadieux Cafe is known for its steamed mussels and fantastic selection of Belgian beers. Frequently listed as a must-see restaurant in Detroit, even Anthony Bourdain stopped by a few years ago for an episode of his show
No Reservations
on Travel Channel.
7. The Great Outdoors: Z's Villa - Detroit
It's summertime, and who wants to be cooped up in a dark and musty dive bar? If getting outside, getting your game on, and getting a drink are all on your to do list, check out Z's Villa in Detroit. Z's offers an extensive menu featuring ribs, seafood and pizza, but their most prominent feature is the beach volleyball pit out back, which you can rent out for parties. In addition, Z's has a patio and a horseshoe game. Great beer prices round out this hidden gem which can get rowdy before sports games in the city. The bar also offers a free shuttle to and from games.
8. Serious about Sports: Norm's Field of Dreams - Troy

Norm's is a large bar that offers a big selection of beers both on tap and in bottles as well as cocktails and a large menu. The inside of the bar is filled with several TVs and sports memorabilia as well as a pool table and darts. Outside you can find corn hole and beer pong, as well as the coolest thing about this bar- at Norm's, you can sign up to be a part of a wiffle ball or corn hole league. For those bargoers really looking for an immersive, game filled experience, Norm's is the place to go.
9. Old School Cool: The Stonehouse Bar - Detroit
Self -proclaimed as the 'oldest continuously operated bar in Michigan', the Stonehouse Bar downtown is absolutely dripping in history. Supposedly a former hangout of the Purple Gang in the '20s and '30s, the Stonehouse Bar is today known for its biker clientele as well as those seeking to hang out at a cool dive. Inside visitors will find a cool, dark interior complete with a jukebox and a pool table, and sometimes hear live music. On summer days, lawn games like horseshoes are often played and outdoor barbecues sometimes take place.
10. True Sporting Experience: On the Dunes - Commerce Township

Credit: On The Dunes (Facebook)
Volleyball is just one of the many activities offered at On the Dunes.
If you're really serious about playing games at the bar, this is the end-all experience. Featuring 10 volleyball courts, 10 golf simulators, a driving range, several golf courses, batting practice, corn hole, ping pong, and swimming, this place has got it all. In addition, tournaments for volleyball and games for golf are offered. Inside the resort-esque complex is a well stocked bar with an upscale seating area and lot of TVs. If you're looking for a truly immersive sports bar experience, this is the bar for you.