It's summer and it's time to get rowdy. Heading to local shows, drinking on patios, porches, up north, down south. Wherever you end up this summer, here is a list of some good Michigan brews to makes your summer a tasty one.

<!————StartFragment————>(Honorable Mention)

Stroh's

American Adjuncy Lager
Stroh; Brewery Company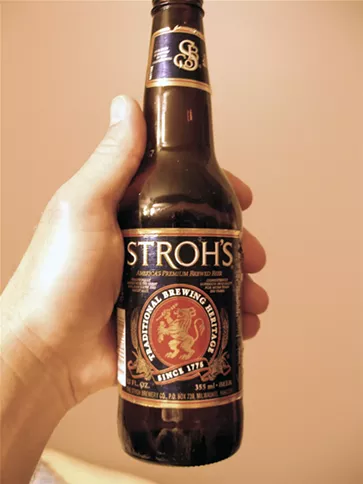 Stroh's deserves an honorable mention on this list, especially since it will be brewed in Detroit again. For my money, it is the superior cheap beer, beating out competitors like PBR, yeah I said it. Cheap and satisfactory.

<!————StartFragment————>#20 Wolverine Premium Lager
American Pale Lager
Wolverine State Brewing


This Premium Lager hits all the right notes for summer; light, smooth, crisp. Something that is easy to toss back on a hot summers day. A good introduction for those who have not fallen in love with craft beer, yet.
<!————StartFragment————>
#19 Dirty Blonde Ale
American Pale Wheat Ale
Atwater Brewery
<!————————StartFragment————————>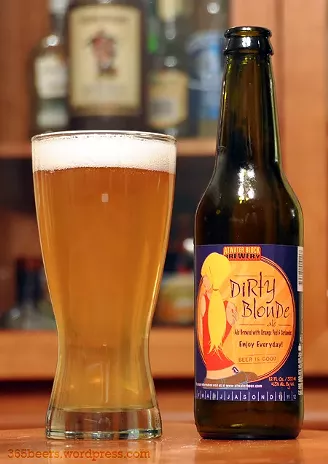 malvernbeerexchange.wordpress.com
Another fantastic light summer beer, with a slight citrus flavor that feels
just
right. Pours a nice dirty gold. The fruit flavor is not to strong, and not to light, the perfect amount to titillate the tongue.
<!————StartFragment————>
#18 Two Hearted Ale
American IPA
Bell's Brewery<!————EndFragment————>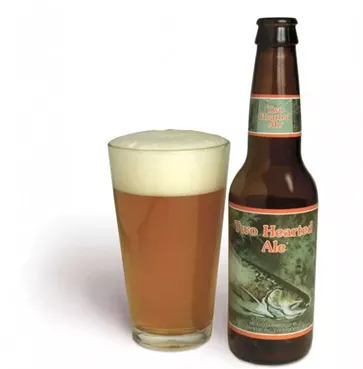 <!————————StartFragment————————>

A delicious India Pale Ale, made American style. Perfect for trips to the Upper Peninsula, fishing by a creek, or hanging out on your porch like a chill duder. Very hoppy, deep golden orange, and hints of a floral aroma. A personal favorite.


<!————StartFragment————>#17 Rübæus
Fruit Beer
Founders Brewing <!————EndFragment————>


http://insuranceguybeerblog.com/
<!————————StartFragment————————>
A beautiful raspberry colored, and flavored, bee. From the smell to the taste, you can feel the raspberries in every ounce of this delectable beer. Hops help to balance the taste out, no overly sweet, just right. Perfect if you like raspberries and alcohol!

<!————StartFragment————>#16 El Rojo Red Ale
American Amber/Red Ale
Griffin Claw Brewing<!————EndFragment————>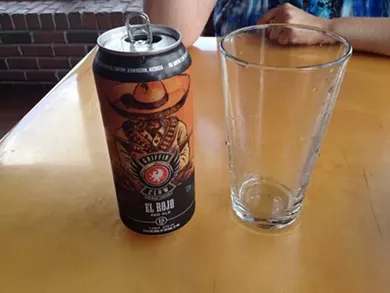 Rich amber in color, sweet, scents of malt and caramel. Leaning on the sweet side, El Rojo gives your mouth the feeling of biting into a sweet...something. Not exactly sure what it is, but its luscious and deserves at least a sampling.

<!————StartFragment————>#15 Devil Dog
Oatmeal Stout

Roak Brewing

<!————EndFragment————>


<!————————StartFragment————————>



Now we start to get into the heavy stuff. Dark brown, tastes of roasted malts, chocolates, and of course oatmeal. This is a hefty beer, but a good one, although this might not be the best beer to consume in vast quantities.


<!————StartFragment————>#14 Ghetto Blaster
English Dark Mild Ale
Motor City Brewing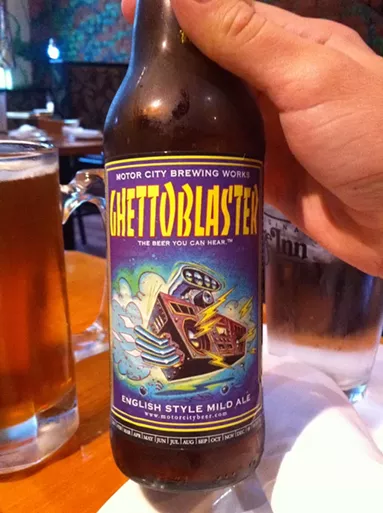 http://www.onblueundercanvas.com/
<!————————StartFragment————————>



Dark copper, toast and biscuit smells arise, a good representation of its style. As the name implies, this beer is VERY much English in its taste. Bringing to mind the taste of the crust of bread, weird I know but stick with me, giving a unique taste. Heavier than a lager, lighter than a stout, right in between.

<!————StartFragment————>

#13 Bean Flicker

American Blonde Ale
Odd Side Ales<!————EndFragment————>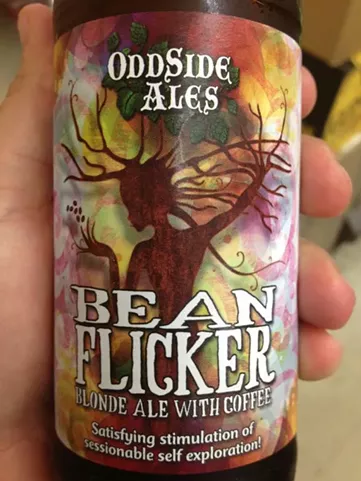 A little odd, but considering who makes it, I'd say it lives up to its name. Coffee infused, with hints of gentle grains. There is a sweetness that combos well with the coffee flavor, not over powering, but makes its presence know. Plus coffee wakes you up, so now combined with a beer, its a win-win.

<!————StartFragment————>

#12 Dirty Bastard

Scotch Ale/Wee Heavy
Founders Brewing<!————EndFragment————>






This mother hubbard, my god, Dirty Bastard is some tasty savory higher alcohol ale. Pours a thick dark brown, tastes of mild sweetness and heavy on the scotch and malt. Ridiculously satisfying, and one of my all time favorites.

<!————StartFragment————>#11 Dragonmead Armageddon
Quadrupel
Dragonmead Microbrewery<!————EndFragment————>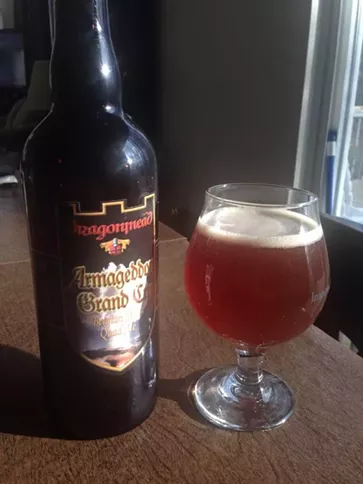 http://barlowbrewing.com/


Sitting at around 11.60% ABV (Alcohol by volume), this is a dragon best slayed while sipping. Smelling of a renaissance festival, full bodied, with a creamy finish. This brew best shared with friends.

<!———————StartFragment———————><!————StartFragment————>
#10 Snozzberries
Fruit Beer
Odd Side Ales
Heading back into fruit territories, this Wonka inspired drank is prefect for summer, with its various fruit flavors to tantalize taste buds. Tastes of tart cherry, grapefruit, lemon zest, and many other fruits, try and identify them all!
<!————StartFragment————>
#9 Freedom of '78
America IPA
Short's Brewing<!————EndFragment————>
✖
i
Freeeedom of the body, freeeedom of the mind, this Ween inspired IPA comes out on a rotating basis, but currently is out and on store shelves. There is a musty flavor, in a good way, like a muted combination of melons, rye, and little bit of honey. IPA are obviously the best style of beer, so you can't go wrong here.
<!————StartFragment————>
#8 Oberon
American Pale Wheat Ale
Bells' Brewery
http://www.theperfectlyhappyman.com/
A Michigan standby, I would think at this point, always good once summer is upon us. Smooth as a cucumber going down, with tastes of spice and wheat. This would be the michigan staple I hand to people if they wanna check out craft beer.
<!————StartFragment————>
#7 Powerboat
Witbier
Roak Brewing Co<!————EndFragment————>
With a sweet powerboat on the bottle, how could you not love it? Pouring out a shining yellow, light, with drinkablility (I know, I know). Powerboat is like if American Lager moved out of the parents house, maybe doesn't have it all together, but is a little more adult and responsible.
<!————StartFragment————>
#6 Corktown Rye PA
Rye Beer
Atwater Brewery <!————EndFragment————>
With a name like Corktown, it has to be good. Rye is the heaviest taste here, with a bit of hops, bread, and caramel. Since it is a IPA by nature, you can chug a few of these back and doing just fine. Although available year round, might be hard to find, so be on the look out.
<!————StartFragment————>
#5 Final Absolution
Tripel
Dragonmead Microbrewery
✖
i
The signature product of Dragonmead, this is a very high gravity beer, that still can be enjoyed without feeling too heavy. Tasting of banana and clove, this beer has a slight bitterness balanced by a lack of hop taste or aroma. This bad boy comes in at 10%00 ABV, so pace yourself, ain't no race.
#4 La Roja
American Wild Ale
Jolly Pumpkin Artisan Ales<!————EndFragment————>
✖
i
Very earthy, in flavor and color. Unfilted, unpastuerized, and blended in barrels ranging in age from two to ten months. Cherries are the first taste to hit your tongue, with various berries to follow, with a sour/tart finish. Quite tasty.

<!————StartFragment————>#3 Vanilla Java Porter
American Porter
Atwater Brewery
<!————EndFragment————>
✖
i

Coffee and Vanilla, there are no games here, what you see is what you get. Very well balanced, and pairs great with a good dinner meal. The kind of beer to drink after unwinding after a long day, laying in a hammock, with a liquid dessert.

<!————StartFragment————>#2 All Day IPA
American IPA
Founders Brewing<!————EndFragment————>


✖
i
IPA, check, Founders, check, thats all you should need to know this is a kickass beer. Another of my favotires, All Day IPA is just that, something you can drink on all day baby. At 4.70% ABV, like most IPAs, it has a little extra kick, but it is so damn good you'll wanna keep drinking it all day.
<!————StartFragment————>
#1 Soft Parade
Fruit Beer
Short's Brewer
✖
i
Introduced to me by a friend, one of my first introductions to craft beers, and I've been in love since then. A fruity rye ale, made with pureed strawberries, blueberries, raspberries, and blackberries. All of these combine to make an exquisite fruit beer, that even those not into craft must bow down and respect.