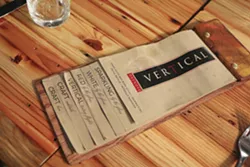 Just as we're starting to tease at triple digit temps with more frequency, Vertical Detroit wine bar has released a refreshing new summer menu.
In addition to the downtown spot's brie and pistachio-covered grapes, scallops, and charcuterie and cheese board, the new offerings include a sweet and tangy compressed watermelon, Sambuca mussels, and a pulpo confit.
Vertical, since opening last year in The Ashley apartment building in the Harmonie Park neighborhood, has fast become a hot spot for the after-work crowd — equally lauded for its vast wine selection and upscale menu.
Vertical Detroit is in the cellar level at 1538 Centre and is open 4 p.m.-10 p.m. Monday-Thursday, 4 p.m.-midnight Friday-Saturday, and 4 p.m.-9 p.m. Sunday.
For our full review of the place, click here.
Check out the rest of the new menu below: