Photo by Serena Maria Daniels
The lineup at El Club is sick. You've got iconic 70s LA punksters, Alice Bag, taking the stage (Aug. 15), followed by X (Aug. 20). And next month (Sept. 14) international sensation Mexican rock band, Molotov, will spout off an irreverent lineup of bilingual jams.
All of which is to say, for the music alone, we're big fans of this southwest Detroit spot. But even if you don't have a penchant for wild guitar riffs, you're likely to become an instant follower of El Club's pizza roster, brought to us by Matt "Pepe Z" Ziolkowski.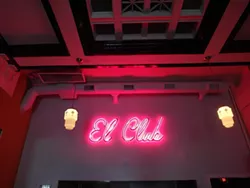 Photo by Serena Maria Daniels
Typical bar food this is not. Pepe Z pies are part Neapolitan, part New York style, with a 72-hour dough that's fired up in an impressive gas-wood hybrid oven (more on that later). The crust is uniquely crisp, the sauce made with four types of tomatoes.
And the toppings, well, Ziolkowski abandons tradition and embraces all manner of combinations. There's a kimchi with egg; a prosciutto, cantaloupe, and pecorino romano; he's experimenting with a spicy cricket pie for next spring. Even a basic pepperoni is given the special treatment with a drizzling of locally-sourced honey (many of his ingredients come from around Michigan).
Photo by Serena Maria Daniels
"I'm kind of in search for the perfect pizza, but maybe that doesn't even exist," Ziolowski tells us.
Whether he finds that holy grail of cheesy, tomato-ey flatbread, it's a noble pursuit. At El Club, he just may have come close to achieving pizza greatness, thanks in part to that oven. When the venue's ownership (Graeme Flegenheimer and father, Eric) took over the Vernor Highway property earlier this year, they connected with Ziolowski about adding food to the mix (he'd previously spent the last decade making his creations for friends at parties and popups). They asked him what kind of oven he needed, he suggested a Napoli-imported Acunto gas-wood hybrid oven (valued at $20,000). To Pepe Z's delight, the club's founders obliged.
Photo by Serena Maria Daniels
Bartender/Mahonies band member, Craig Brown.
Ziolkowski is still getting to know the massive oven, which protrudes out of the wall into the backyard patio. He and two of his crew members flew out to Colorado for four days for special training. And he's yet to start using wood, for now sticking with gas until he gets a better handle on its temperament, he tells us.
Photo by Serena Maria Daniels
Jen David, aka Jenny Junior, spinning records.
The result of the investment is a club full of satisfied regulars. On a recent Thursday evening, we (and plenty of other fans) stopped in for El Club's happy hour special (5 p.m.-7 p.m. daily): a whole pie (your choice of Margherita or pepperoni) and two Stroh's for $12.
With a live DJ set by Jen David (aka Jenny Junior), among others, and that sprawling patio, it made for the ideal summer night in Detroit. Good pizza, cheap beers, and laid back vibe - what a combo.
El Club is at 4114 Vernor Highway.