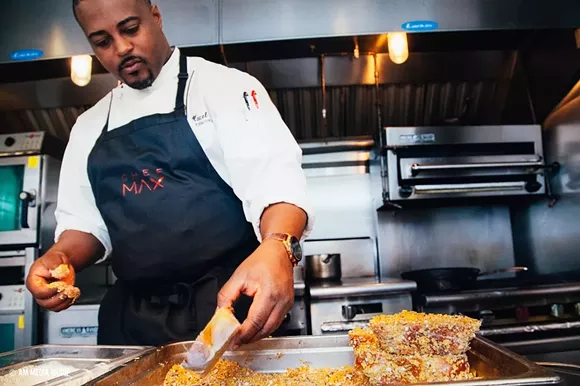 Photo courtesy of Am media Group
If you're a Detroiter, even if you leave for a length of time, there's a good chance that you'll find your way back somehow, someway.
That's certainly the case for chef Maxcel Hardy, who was born and raised in Detroit. He first caught the cooking bug in a high school culinary arts program when his family relocated to Tampa, Fla. In the years that followed, he's worked as a personal chef in Miami, Los Angeles, and New York. His clientele includes a number of hip hop and R&B artists and New York Knicks superstar Amar'e Stoudemire (with whom he collaborated on a cookbook), and he's been featured on the Food Network's Chopped, and magazines Bon Appetit and Essence.
More recently in Harlem, Hardy was among the featured chefs to cook in the Black Chefs Series at Bluejeen restaurant. He's since taken that concept and brought it to his hometown where in September he, along with FoodLab Detroit and (revolver), he launched the first in a series of dinners called Detroit Grown & Made, with the inaugural event held at Oakland Avenue Urban Farm in the city's North End.
In the coming months, Hardy tells us he will be back to Detroit for good when he opens Coop, an eatery featuring Caribbean style chicken, in the Detroit Shipping Co. food hall on Peterboro off Cass.
Here, we learn that Detroit, community, and Chinese food are just a few of the things that Hardy holds close to his heart.
Metro Times: What is one thing people don't know about you that you wish they did?
Maxcel Hardy: I wish I could be a race car driver, and I think I'm the male Martha Stewart.
MT: What daily ritual is non-negotiable for you?
MH: Listening to Steve Harvey every morning, praying every morning before I leave the house
MT: If you could have any superpower, what would it be?
MH: To fly to have the ability to fly over traffic jams, to be a chef in three different cities each day.
MT: What is the most positive thing in food or drink that you've noticed in Detroit over the past year?
MH: Seeing more, healthier options throughout the city. I think that is key to keep the city alive.
MT: Who's the one person to watch right now in the Detroit dining scene?
MH: Chef Elle Simone Scott (another Detroit native who spends time in NYC's dining world) is a great chef that I respect in the Detroit culinary scene. I have had the chance to work with her last year in The Black Chef Series.
MT: Which ingredient is most representative of your personality?
MH: Cilantro, it's refreshing, brightly colored, has amazing flavors, and is balanced.
MT: If you weren't working in the restaurant business, what would you be doing?
MH: Police or race car driver, the excitement is amazing as a race car driver. Police because I love humanity and have a heart for my community. I would want to be a voice with the police department to change the narrative how my communities and police connect.
MT: Name an ingredient never allowed in your kitchen.
MH: Wow licorice I can't take it. It was one ingredient on "Chopped" that I hated!
MT: What is your after-work hangout?
MH: Cigar lounge. I'm a cigar aficionado. It also is relaxing after a crazy day in the kitchen.
MT: What's your food or beverage guilty pleasure?
MH: Food guilty pleasure is Chinese food, spare ribs and Egg Foo Young. My guilty beverage is gin and tonic
MT: What would be your last meal on earth?
MH: Seabass Miso. I would go out with a smile on my face.
See also:
Detroit Grown & Made dinner series shines light on black chefs and farmers