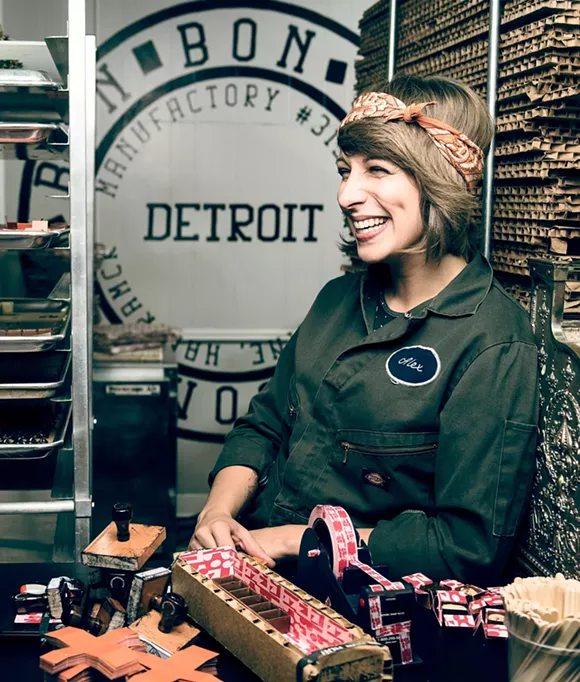 By now, you should know and love the delightful little boxed shaped chocolate creations behind Bon Bon Bon, available in Detroit and Hamtramck. They come daintily packed with flavors that remind us of the Motor City (Bumpy cake, Better Butter Crunch, Boston Cooler) and of the seasons (cider and donuts, "Pumpkin Spice is Cheesy"), to name a few.
One of the most popular bons to come out of the tiny chocolate factory is the Hot Mess. Available only in the Hamtramck store, it's simple, yet blissful, with a hard dark chocolate shell filled with warm, molten milk chocolate. Eat it up as soon as one of the shop's friendly chocolatiers hands it to you and for a moment your troubles melt away.
Behind the magic is Alexandra Clark, whose crew recently took those hot messes to Boston for the Forbes 30 Under 30 summit (she was added to that distinguished list of entrepreneurs earlier this year). The chocolates wowed judges and she walked away with a pleasant surprise: the title of the world's best young pastry chef. The recognition is especially unique for Clark, considering her forte is in chocolate-making, not necessarily in baking pies or cupcakes.
"I really love being able to live on the outside (of the category), on the outskirts of something," Clark tells us. "It lets me associate with it when I want to and to explore things in a different way."
The win comes as Clark and company continue work on renovating a larger production and retail space than her current tiny spot in Hamtramck and as they gear up for the busy holiday season in the weeks ahead.
Here, we get a little glimpse of Clark's world outside of the chocolate factory.
Metro Times: What is one thing people don't know about you that you wish they did?
Alexandra Clark: People always see me in my coveralls from work, but I wish people could see me in my own clothing, because I love to shop for vintage clothing, which comes almost exclusively from Hamtramck vintage shops or the Salvation Army.

MT: What daily ritual is non-negotiable for you?
AC: Walking my dog. I love my dog. That, and a cup of tea in the morning. I really love a strong cup of tea.

MT: If you could have any superpower, what would it be?
AC: Teleportation, because we could hop around, not only between stores, but also to see friends because they're all over the place, and also to pick up ingredients.
MT: What is the most positive thing in food or drink that you've noticed in Detroit over the past year?
AC: Collaboration. it's really cool to see that in a food environment collaborate and learn from each other. That's an advantage that we have over other cities, that we can learn from each other.

MT: Who is your Detroit food crush?
AC: Dave Mancini. I've never met him, everyone else has already met him, but I have such a crush on his businesses. He loves his employees so much. I'll say this, Bon Bon Bon has a huge crush Dave Mancini.
Also, Tara Grey from Gus & Grey, she calls herself a jam pimp. To be able to make jam, where you say, shit that's really good jam, that's really impressive.
MT: Who's the one person to watch right now in the Detroit dining scene?
AC: Reid Shipman who used to be at Gold Cash Gold. He has more discipline than anyone in the dining scene. He has a classic style to his work method. I'm personally excited to watch what happens next. Him being up to something makes me really excited.
MT: Which ingredient is most representative of your personality?
AC: I don't want to say chocolate because it's too obvious, but I really can identify with it. More specifically, I don't personally prefer dark chocolate, but I can identify woth dark chocolate because it's dark and earthy, but also sweet and fun.
MT: If you weren't working in the restaurant business, what would you be doing?
AC: I would love to be a post man (woman), I would love to deliver people's mail. I always need to be moving and I really love snail mail. It's one of those old things that we all still use.
MT: Name an ingredient never allowed in your kitchen.
AC: We don't allow bad chocolate in the shop, you know, like the boxes where you only eat half the box and throw the rest away.
MT: What is your after-work hangout?
AC: Bumbo's or Suzy's.

MT: What's your food or beverage guilty pleasure?
AC: I love sparkling water. I have no brand loyalty as long as it's bubbly and… Water.
MT: What would be your last meal on earth?
AC: I used to live in New Zealand, so I would have grass-fed New Zealand venison, seared and rare, with English plum sauce. That, a cappuccino, a piece of chocolate for dessert, and sparkling water.
See also:
Side Dish: The Peterboro's Brion Wong on super speed and ginger
See also:
Side Dish: Meet the women behind The Farmer's Hand in Corktown
See also:
Bon Bon Bon outgrows its tiny chocolate factory, buys new, bigger property in Hamtramck