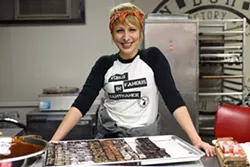 Tanya Moutzalias
Alexandra Clark of Bon Bon Bon.
Alexandra Clark is living life as not only a successful business owner in the city of Hamtramck, but as a media darling.
The pixie-haired chocolatier has been profiled in the
pages of Metro Times
many
times
and was recently named to
Forbes' 30 under 30
list, which gave the 27-year-old's business a national platform.
The media attention isn't slowing down.
Midwest Living
, a regional lifestyle magazine, recently profiled Clark, making note of her Motor City-inspired aesthetics and hands-on approach to making classic confections.
We're down for anyone giving Detroit businesses the spotlight, especially when they have the foresight to not call our town a "blank slate" or
imply that a chocolate company is saving the city
.
So, what's the take-away from all this? Life really is like a box of chocolates. You never know what media outlet is gonna cover you next.