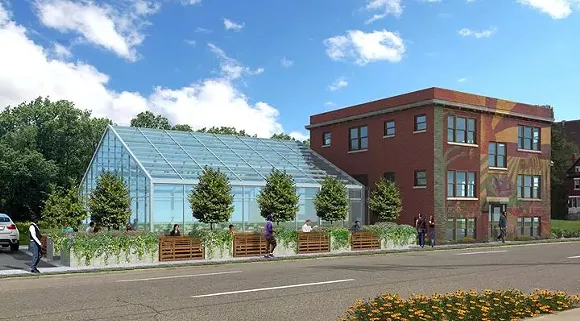 Photo via MUFI's Facebook page.
The city of Detroit is about the get the first "sustainable urban agrihood" in the country and if you're scratching your head and what the heck that might mean, you're not alone.
According to the Michigan Urban Farming Initiative (MUFI) an urban agrihood is "an alternative neighborhood growth model ... that positions agriculture as the centerpiece of a mixed-use urban development."
Detroit's agrihood will be located in the lower North End and will take up three acres of land that's currently home to a mixed bag of vacant lots, abandoned and used buildings.
The agrihood — which sounds pretty cool — will consist of a two-acre garden that will produce over 300 varieties of fruits and veggies, a 200-tree orchard that will produce fruit, and a children's sensory garden (sounds fun!), all of which will serve the surrounding neighborhood by delivering free fresh fruits and vegetables to over 2,000 home owners in the area.
MUFI also has plans to open a resource center in a long-vacant building. The center will provide education programs, events and programs and will also house two commercial kitchens where food will be prepped for a planned cafe in an adjacent space.
The nonprofit is working on other projects too. Namely a vacant home they plan to turn into intern housing, a two-bedroom shipping container home, and rebuilding a home next to the farm that was damaged in a fire. They plan to use that home's basement by converting it into a water harvesting cistern that will "automatically irrigate the garden while preventing runoff into the Detroit sewer system."
MUFI is working with corporate partners like BASF, General Motors, Herman Miller, and Green Standards — proof this project has some real legs to stand on.
Parts of the project are expected to be unveiled as early as May 2017.