Stewart Huff performs at Small's. Courtesy photo.
Thursday, 2/2
Stewart Huff
@ Small's Bar
Stewart Huff looks like a normal white guy. If you saw him at a diner you probably wouldn't think he looks particularly funny — we're still not sure if the flannel shirts and shaggy hair are ironic or not. But, the comedian does seem to have a knack for hitting the nail on the head when it comes to just how hilarious it is that cotton balls now require a warning label. Huff will be performing at Small's as part of the regularly scheduled Ray & Laura's Comedy Showcase and will be supported by Adam Sokol and Wesley Ward.
Doors open at 8 p.m., show starts at 9 p.m.; 10339 Conant St., Hamtramck; 313-873-1117; smallsbardetroit.com; tickets are $5; 21 and older only.
Parlor Talk: Building a Just City. Image courtesy of Urban Consulate.
Thursday, 2/2
Parlor Talk: Building a Just City
@ Urban Consulate
Three speakers, Amanda Alexander, Deanna Van Buren, and Kyle Rawlins, plan to discuss ways to overcome the prison-industrial complex and high rates of incarceration in Detroit. The speakers will talk about how Detroiters can continue to build a new urban landscape that focuses on restorative justice rather than punitive justice. Each speaker is an expert in their own right: Alexander is from the Prison and Family Justice Project at University of Michigan law school, Van Buren is the co-founder of Designing Justice + Designing Spaces, and Rawlins is the founder and principal of Piper-Cadmium Real Property Management in New York City.
Starts at 6 p.m.; 4470 Second Ave., Detroit; urbanconsulate@gmail.com; urbanconsulate.com; free.
Thursday, 2/2
Red Hot Chili Peppers
@ Joe Louis Arena
The Red Hot Chili Peppers: What else is there to say? The band's following is almost cult-like, and few people need to be sold on seeing them live. From "Under the Bridge" to "Californication" to "Snow (Hey Oh)" to "Dani California," (they really like California) the Red Hot Chili Peppers' hits have been huge. One of the few alternative bands of the '90s to maintain its popularity and relevance through the decades, the Red Hot Chili Peppers have persevered through time, drug addictions, and the "rock star lifestyle." Trombone Shorty & Orleans Avenue open.
Show starts at 7 p.m.; 19 Steve Yzerman Dr., Detroit; Ticketmaster.com; tickets are $52 - $102.
Thursday, 2/2
Lynyrd Skynyrd
@ MotorCity Casino's Sound Board
Well, this will be the only time where yelling, "Play 'Free Bird'!" will be socially acceptable. Lynyrd Skynyrd, the band responsible for bringing Southern rock to the mainstream and making it a staple of what we consider to be the 1970s rock 'n' roll sound, will make their way to Detroit once again. There are two upsides to seeing Lynyrd Skynyrd live: Firstly, it's Lynyrd Skynyrd. They're legends in the world of rock music, and you're going to want to say you saw them live. Secondly, you'll be able to get that infernal Kid Rock song about "singing 'Sweet Home Alabama' all summer long" out of your head after years of subjugation.
Doors open at 8 p.m.; 2901 Grand River Ave., Detroit; soundboarddetroit.com; Tickets are $40-$60.
Friday-Saturday, 2/3-2/4
Pioneers of African-American Cinema film series
@ Detroit Film Theatre
In celebration of Black History Month, the Detroit Film Theatre has curated a film series to help tell the story of African-American filmmakers in the early days of movies. This one-weekend-only series includes titles like The Flying Ace, Dirty Gertie From Harlem U.S.A., Ten Nights in a Bar Room, Eleven P.M., and Body and Soul, all of which were released in the mid- to late 1920s. You can see these flicks for free (plus a Friday night-only viewing of excerpts of the Rev. Solomon Sir Jones' home movies) thanks to a contribution made by Arn and Nancy Tellem.
Show times vary, check dia.org for a full schedule; 5200 Woodward Ave., Detroit; all screenings are free.
Friday, 2/3
Drive-By Truckers
@ The Majestic Theatre
Athens, Georgia, has always been a hub for politically conscious Southern music. From R.E.M. to the B-52s, to the Drive-By Truckers, the city has fostered musicians with vast differences in sound, yet the same courage to speak out for what they believe in. More relevant than ever, the political Southern rock band Drive-By Truckers will bring its riotous American Band album to the Majestic Theatre. While the band has been around for over two decades, it has never tackled so many hot-button topics on one record. The band confronts sensational issues in society like Islamophobia, the NRA, income inequality, and more.
Doors open at 8 p.m.; 4140 Woodward Ave., Detroit; majesticdetroit.com; Tickets are $25 in advance and $30 the day of.
Friday, 2/3
Shari Kane and Dave Steele
@ Trinity House Theatre
Both legends in their own right, Shari Kane and Dave Steele have finally fallen to the pressure of their fans, friends, and family to perform together. Kane's career began as the latter half of blues duo Madcat & Kane, while Steele was the leader of Big Dave and the Ultrasonics, another blues group. The two met in 1991, got married, and continued their respective careers. While they've been playing together since they met, they're just embarking on their first tour and album release together for the first time now. Fans of both can hazard a guess that it's going to be a perfect fusion of fantastic blues.
Doors open at 8 p.m.; 38840 W. Six Mile Rd., Livonia; trinityhousetheatre.org; tickets are $15 and must be purchased in advance.
Friday, 2/3
Cate Le Bon and Tim Presley
@ El Club
Cate Le Bon is everyone's favorite Welsh singer-songwriter. Whether she's performing Me Oh My or her latest release, Crab Day, her haunting voice has attracted fans to her music since 2008. She performs in both Welsh and English, providing for a unique lyrical experience. This time around she's bringing her good friend and collaborator on Drinks, Tim Presley, with her. Presley, an American musician who started out in the punk band the Nerve Agents, has had a hell of a career, including a collaboration with Ty Segall.
Doors open at 8 p.m.; 4114 W. Vernor Hwy., Detroit; elclubdetroit.com; tickets are $14.
Friday, 2/3
696 Blues Band, Sikk Laffter, Ghouls
@ Trixie's Bar
This is going to be a fantastic show, starting out with the amazing 696 Blues Band, a one-person affair led by former boy wonder picker and current mayhem maker for Wolf Eyes, James Baljo. 696 is one of the top solo projects in a city teeming with them; the music features dark guitars that ooze melancholy, but also don't become dry or boring after time. You might recognize Sikk Laffter as a DJ on the creepier side of the sound spectrum, with an ear for mixing sounds like no other. And Ghouls is going to be your newest favorite post-goth band, featuring flutes and unnerving vocals, and what else do you need?
Doors open at 9 p.m.; 2656 Carpenter St., Hamtramck; facebook.com/trixiesbar; tickets are $5.
Detroit Roller Derby Double Header at Masonic Temple. Photo by Josh Kahl.
Saturday, 2/4
Detroit Roller Derby Double Header + Wedding
@ Masonic Temple
Detroit is blessed with a vibrant roller derby community along with the towering monolith that is the Masonic Temple, where local matches occur. On Saturday the Devil's Night Dames will take on the DFunk Allstars, but that's not even the most fun part. For the first time in the history of the Detroit Roller Derby, a couple will tie the knot during halftime. The ceremony and celebration are expected to be in "derby style." The game will recommence following the halftime ceremony and the second game, a matchup between the Detroit Pistoffs and Grand Prix Madonnas will begin shortly after the first game concludes.
Doors open at 5 p.m.; game starts at 6 p.m.; 500 Temple St., Detroit; detroitrollerderby.com; tickets are $15 in advance and $18 at the door.
Stef Chura performs at Marble Bar. Courtesy photo.
Saturday, 2/4
Stef Chura Record Release Party
@ Marble Bar
Grunge-pop musician Stef Chura has been hustling — setting up shows around Detroit and just killing it live for years now. After lots of anticipation, Chura finally released her first LP, Messes (Urinal Cake Records). She's strong, smart, and savvy — like some mad scientist hybrid of Stevie Nicks, Kathleen Hanna, and Patti Smith. Songs like "Slow Motion," "You," and "Spotted Gold" are instant favorites, and can be heard on her website right now. "Spotted Gold" stands out as the best of the three singles thanks to its strong guitars and even stronger vocals. (Plus, the music video is pretty swell.)
Doors open at 9 p.m.; 1501 Holden St., Detroit; stefchura.net; tickets are $5 in advance and $10 at the door.
Saturday, 2/4
Mixology Fundamentals
@ Sugar House
Want to learn what it takes to be a master mixologist at Corktown's Sugar House? This two-hour class will give you a comprehensive rundown of the skills required to man the bar behind this noteworthy and award-winning craft cocktail watering hole. The class will begin while participants sip a "welcome punch" and discuss the nuance of liquors, liqueurs, ingredients required, tools, and equipment of mixology. They'll also learn techniques like shaking, stirring, and straining, while concocting three cocktails of their own. The event promises to equip participants with "enough knowledge to stock his or her home bar with products and tools required to make fantastic cocktails at home."
Starts at 2 p.m.; 3456 Evaline St., Hamtramck; 313-346-5465; hatchart.com; free.
Saturday, 2/4
Shiver on the River
@ Belle Isle
I don't know about you, but I generally plan on staying indoors from November through March. Of course, with 60-degree days in January, things have been a little different this year. Nonetheless, you'll still probably be shivering while enjoying some outdoor activities on Belle Isle during this family-friendly event. Most of it takes place inside the casino, but other buildings like the aquarium, conservatory, zoo, Dossin Museum, yacht club, boat club, and Coast Guard station will also have activities for families. The event is free, but entry to the pancake breakfast is $8 for adults and $6 for children and snowshoeing is $4 per hour per person.
Starts at 10 a.m.; Belle Isle, Detroit; 734-288-3889; detroitriver.org; entry to event is free.
Saturday, 2/4
Dhamaal Dance Competition
@ Music Hall
College teams from across the country have been invited to participate in this South Asian dance competition that will focus on Bollywood film dance and Western fusion dance. The event will be judged by young dance and social influencers like Shereen Ladha, Sahil Mehta, Jake Philip, and Jeron Howie. An official afterparty will commence at 10:30 p.m. at the Majestic Theatre, where DJs specializing in South Asian music will spin for what is promised to be Michigan's largest South Asian dance party.
Doors open at 4 p.m., show starts at 5 p.m.; 350 Madison Ave., Detroit; musichall.org; tickets are $25 for the show and afterparty.
Visit the Detroit African Expo at Greater Grace Temple on Saturday, Feb. 4. Courtesy photo.
Saturday, 2/4
Detroit African Expo
@ Greater Grace Temple
Despite rampant gentrification, Detroit remains a city with an 83 percent black population. And while some folks would rather focus on mixology classes and midnight screenings of Bill Murray movies, events that celebrate African-American heritage, culture, and fashion are just as (if not more) important. The Detroit African Expo promises to bring patrons a shopping extravaganza, fashion show, headwrap workshop, live entertainment, vendors, and presentations. The event is a celebration of Black History Month that all Detroiters can enjoy.
Starts at 10 a.m.; 23500 W. Seven Mile Rd.,Detroit; 248-951-2363; tickets start at $10.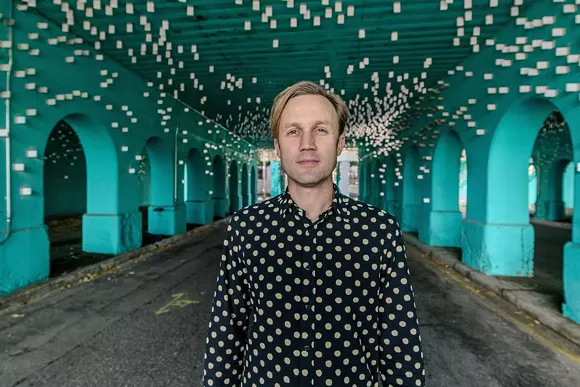 Tim Presley performs with Cate Le Bon at El Club. Courtesy photo.
Wednesday, 2/8
Timothy Monger
@ The Ark
You probably know his name from the Great Lakes Myth Society, or his articles on Allmusic, but Timothy Monger does pretty darn well for himself without the fantastic band that he and his brother co-founded. His sound is rich and poppy, filled with that jangly sound that fans have come to crave. He's influenced some of your other Michigan favorites like Matt Jones, Chris Bathgate, and Misty Lyn. He's been compared to Elliot Smith, early Bee Gees (aka the Bee Gees before they ruined music by jumping on the disco bandwagon), and even the Electric Light Orchestra. Somebody who's compared to Elliott Smith and ELO is pretty versatile to say the least. His latest release, The New Britton Sound (Northern Detective), is everything a fan could hope for, and you're going to want to hear his single, "The Lark," live.
Doors open at 7:30 p.m.; 316 S. Main St., Ann Arbor; theark.org; Tickets are $15.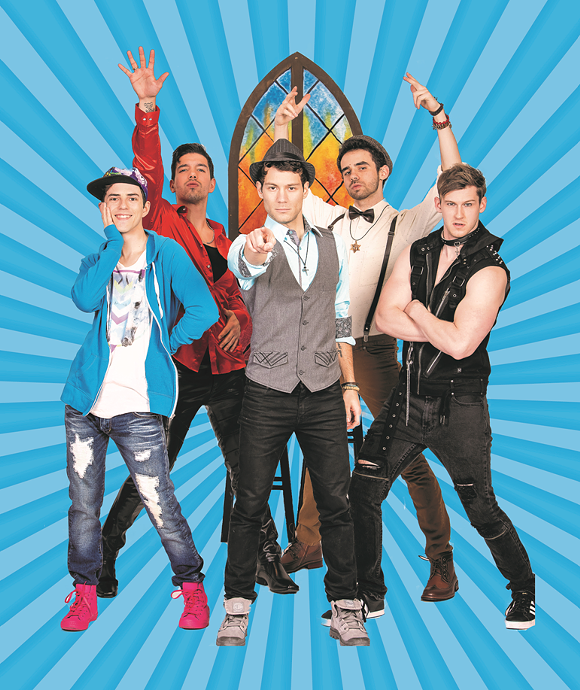 Altar Boyz starts at Meadow Brook Theatre on Feb. 8. Courtesy photo.
Wednesday, 2/8
Altar Boyz
@ Meadow Brook Theatre
Altar Boyz, a satirical musical comedy, takes aim not only at the boy band phenomenon (remember, this show was created in 2004, a time in history where we were just beginning to see the slow but inevitable demise of the boy band) but also that of contemporary American Christian music. Think of it like the made-for-MTV movie 2gether, except they're singing about Jesus instead of calculus. The songs are pretty cheesy, but they really do sound like a Christian NSYNC.
Show starts at 8 p.m.; 207 Wilson Blvd., Rochester; 248-377-3300; mbtheatre.com; tickets are $27.