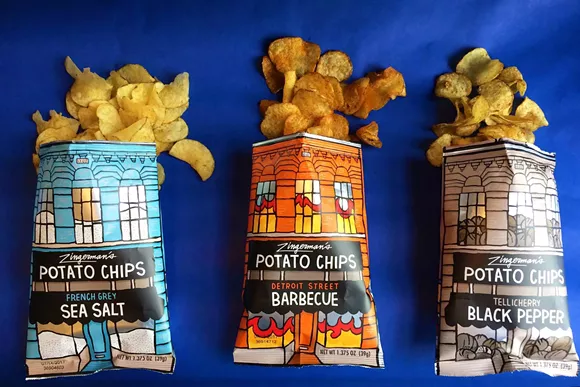 Courtesy of Zingerman's
Zingerman's new lines of potato chips.
Given that Zingerman's sets Ann Arbor's sandwich standard and its family of companies creates so many original flavors and products, it's a little surprising that it has yet to dabble in the art of artisan potato chips.
But that changed as of this week when Zingerman's Delicatessen announced it's launching its own line of thin and crispy spuds, Zingerman's Potato Chips, out of the Detroit Street deli.
Though the chips are under the Deli label, chef Rodger Bowser spent a year working with Traverse City's Great Lakes Potato Chip Company and Épices de Cru, a Montreal-based spice company considered one of the best, to develop the products.
A year of trials and test runs in the Deli kitchen yielded three lines: Detroit Street Barbecue, Tellicherry Black Pepper, and French Grey Sea Salt. But some limited edition bags are in the pipeline, including one "that tastes like Zingerman's famous pickles."
Zingerman's joins Great Lakes, Detroit Friends Potato Chips, McClure's, Better Made, and Uncle Ray's in the increasingly crowded Michigan chip market.
The bags are available at the Deli, Roadhouse, Bakehouse, and in Zingerman's Catering's Bag Lunches.