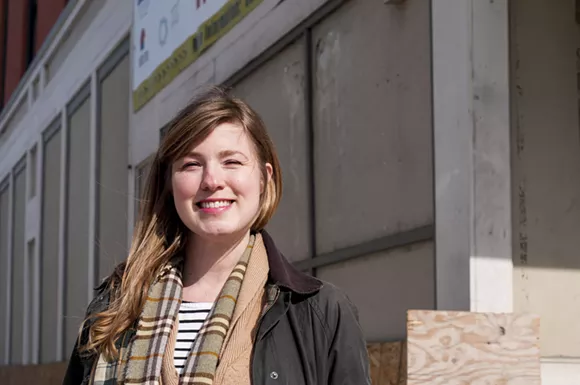 Photo By Tom Perkins
Lucy Carnaghi at the under renovation, future home of Wilda's at the corner of West Grand and Woodward.
There's a lot of excitement and almost universal praise for the wave of new restaurants opening in Detroit in recent years. Some deserve it, others not so much. Then there are the very few spots like Rose's Fine Food — a complete package that perhaps even exceeds the acclaim.
That's why it was initially a bit of a bummer to learn that the team behind the east side restaurant — cousins Lucy Carnaghi and Molly Mitchell — recently parted ways, though it turns out there's good news coming from the split.
To be clear: There's no drama or ill will between them. Instead, it's just a matter of their careers diverging at this point. Carnaghi is focusing on Wilda's, a planned New Center restaurant that was originally a second collaboration between the two, and Mitchell will continue with Rose's. (They even considered closing the diner at one point, so this way we get to keep Rose's and have a new restaurant.)
For Wilda's (named after Carnaghi's great grandmother), Carnaghi is partnering with "stellar" and "
sought after
" chefs Max and Eli Sussman, who grew up in Huntington Woods and now live in New York City. (They will split their time between NYC and Detroit.) Aside from grabbing two of the town's best chefs, Carnaghi managed to land one of its best locations — a 2,200 square-foot building at the corner of Woodward Avenue and West Grand Boulevard that's under renovation (it'll be green) and owned by Midtown Detroit, Inc. An August opening is the goal, right around the due date for Carnaghi's first child.
We caught up with her to discuss the Rose's split and what's in store for Wilda's.
Metro Times:
You and Molly had a good thing going at Rose's. Why did you decide to part?
Lucy Carnaghi:
Basically I wanted to open a restaurant for 15 years and Wilda's is closer to the vision that I had, and Rose's is closer to Molly's vision, so it was a perfect split. We're still friends, we're still close, and we're still family, so we're both really feeling good about the direction things took.
Rose's is wonderful and I'm super proud of what we were able to do there, but we had started working on Wilda's a year ago. It was a big project, a big next step, and there were a lot of big decisions hanging in the balance. Should we keep Rose's open? Could we handle two places? Basically, I handle the front of the house stuff, and my expertise lies in wines, spirits, cocktails, that kind of thing. Rose's didn't have a liquor license … and I was ready for another stage of growth where my interests were a little more satisfied.
I think in the end Molly was pretty happy with Rose's and she was hesitant to move on. It can be hard being business partners, and we said from the beginning that our friendship comes first, and if there were ever (any problems) in the equation, then we would figure out how to revise the business strategy and partnership so the relationship wasn't sacrificed.
MT:
Tell us about the Wilda's concept.
Carnaghi:
It'll be breakfast, lunch, and dinner. Pretty simple. Every time I think about going out to eat in Detroit, I just want to go somewhere and have a plate of quality food, not something that you're forced to share with 10 other people, and I think that's something missing in the dining landscape — a place where you take your kids and you get a dinner, a very straightforward thing with a couple pieces of chicken, potatoes, and a little salad — very simple stuff. You'll probably never see squid ink pasta on the menu. We're not trying to be chic. We want to be a little more utilitarian, but delicious. Sort of like Rose's with elevated diner food. It still has a lot of basic-ness to it, and we want to keep the price accessible.
Photo By Tom Perkins
The Wilda's building, which is under renovation at Woodward Avenue and West Grand Boulevard.
I also don't want it to be a fussy experience where the server is at the table waiting on you hand and foot. The menu changes often, and ordering will be kind of like when you go to get sushi — you hand the order over to the server on a card, someone brings you your stuff, and if you want more, then you fill out another card. Pretty straightforward.
I want to go somewhere where I feel like I got some nourishment and my wallet isn't empty. Every time I go out to eat I try to go to my own restaurant that isn't there yet.

MT:
What was successful at Rose's that you want to bring over to Wilda's?
Carnaghi:
The emphasis on quality in terms of quality ingredients. I'm not a chef but I understand food and the difference between crappy and good ingredients. The other part of the equation, of course, is the building will be a beautiful space. Wilda's is going to be like nothing we have in the city — a lovely Parisian-style café, geometric tile floor, a beautiful tin ceiling, huge windows. Stunning, but really down to earth, and we want to keep a social mission in mind, a real awareness of the primacy of food and eating in our lives, and making a place that everyone in the community can enjoy, not just a place for some, but not others.
MT:
What attracted you to New Center?
Carnaghi:
There are some cool buildings and it has this little city vibe where there's density and people are out hustling, and there are tons of offices … lots of residential nearby in the North End, Boston Edison, and there's a really nice little neighborhood right around there. It's a great location and it's a stunning space. The bones are really special.
MT:
Tell me about the cocktails.
Carnaghi:
We're not aspiring to be a "Dave K." (Kwiatkowski, of Sugar House and Bad Luck) bar. I love cocktails, they're so much fun and you gotta have them now. I think we'll keep a tight list of classics, and a small seasonal rotating menu. I'm interested in letting my staff take the lead in certain areas with some guidance from myself. I definitely have a concept for our signature house drink, Garden Wine. It's basically like a … French wine, could be white or rose. Like a really dry sparkling sangria sans fruit and sugar, but with local herbs, citrus, and a little bit of dry vermouth.
People really like it when stuff is floating in their glass, and we want to keep that cocktail at six to seven bucks and make it a fun kind of signature drink for us.