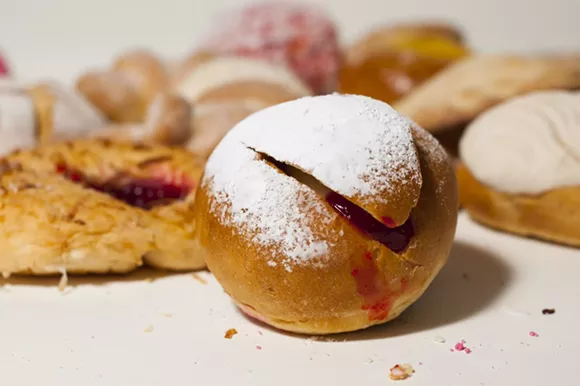 Photo by Tom Perkins
The "Squash" with cream cheese, strawberry filling and powder sugar

(See 14 photos of Panaderia La Bendicion's pastries here.)
Though Ypsilanti's Mexican and Central American population isn't nearly as large as that a half hour east in Southwest Detroit, its small community of restaurants is producing dishes that can stand up to anything made by its nearby neighbors.
Joining their ranks is Panadería La Bendición, southeast Michigan's only Guatemalan bakery, which opened last week. (Yes, some bakers in Southwest may bake a few Guatemalan goods, but this is the only shop run by Guatemalans and trading exclusively in their sweets.)
The Central American country sits just south of Mexico so there are some similarities in the countries' respective pastries, but La Bendicion owner Edyn Vasquez notes that there are major differences, especially in the usage and types of yeast and salt. Guatemala is also a slightly more tropical country with beaches facing the Atlantic and Pacific Oceans, so it's not surprising to find banana, pineapple, coconut, and other similar fruits in La Bendición's recipe book. Interestingly, it's the simple items, like the cinnamon-y, salty, and buttery cookie, that are among the best.
The tiny shop at 531 W. Cross St. across from Eastern Michigan University's campus is the city's second Guatemalan establishment, joining Encunetro Latino, a family-style restaurant that opened in downtown Ypsi in late 2015. Several estimates put the Ypsilanti area's Guatemalan population at between 100 and 200 people, with more arriving to join family members already here. An Ypsilanti Community Schools teacher tells
MT
the district saw a jump this year in the number of students from Guatemala.
That's great news for Ypsi for all kinds of reasons, not the least of which is more diversity in the city's food scene. We stopped in La Bendicion and picked up 14 pastries for the very low price of $8. Check out photos of each
here
.
Photo by Tom Perkins
The "Yo-yo" with coconut and strawberry.