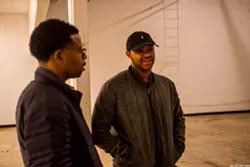 Terrell Groggins
Raphael Wright and Theo Easter
As we
recently highlighted
, there are no black-owned grocery stores/supermarkets in Detroit, and that's a troubling situation given that the city is 80 percent African American.
But that could soon change. Raphael Wright is a black man in Detroit who's putting together the funding to open a store, and as part of that effort he
launched a crowdfunding campaign on GoFundMe
with a $100,000 target.
"Our goal is simple: Open a black-owned grocery store in Detroit with a mission to provide better food than we have at other stores in the city, and some economic betterment opportunities," Wright says.
As of Monday, the campaign collected over $16,000, and Wright, who is working with partner Theo Easter, is putting down $10,000 of his own money to boost the pot to $26,000. Beyond that he's working with Motor City Match to secure more funding and explore grants that might fit. Several locations are under consideration, including sites at
17455 E. Warren Ave. and 18210 Wyoming Rd.
So why is it a problem that there are no black-owned supermarkets, and why is this a cause worth financial support? As we previously noted, there are several issues.
Most of Detroit's approximately 80 grocery stores are owned by Chaldeans, with some exceptions. African Americans are largely shut out of management positions, meaning they're stock persons or cashiers, but they never learn to run a store or earn management wages. That makes it difficult to get the experience necessary to run a store or secure funding through traditional channels. (Several sources interviewed on the topic stressed this is a critique of the structure, not Chaldeans)
Inside the stores, some of Detroit's supermarkets are notorious for relabeling expiration dates, selling low quality or spoiled products, and maintaining an unappealing environment.
Though there are no larger grocery stores, there are several smaller neighborhood markets that are African American-owned, like The Farmer's Hand in Corktown, and a food co-op is also in the works. Food activists say those are good alternatives to the supermarket model.
Like those, Wright plans to offer more organic and healthy options, better quality meats, halal meats, and fresher food, though his store will also have all the traditional grocery items and even some junk food.
"But I want to offer incentives for people to not buy those things, and encourage the community to adopt a healthier lifestyle, particularly when we eat," he says. And h
e knows the importance of healthier living from experience as he was diagnosed as diabetic at the age of 19.
Wright adds that customers get better food options when it's prepared or distributed by those who are personally invested in the community, and not just there to make a buck off it. As he notes, fresh
food in Detroit grocery stores is often placed on the shelves only a day from expiration, and there's a shortage of healthy options.
"They don't care what they're feeding us. There's food that's old, and they're selling things they wouldn't feed themselves or their children," Wright says.

There's also a real economic issue. Grocery stores help drive local economies. The local economies thrive when stocked with business owners supporting and spending their money at other neighborhood businesses — developing a prosperous synergy. Grocery stores can be a neighborhood institution, and when a store's ownership and management hauls its profits to the suburbs, as is often the case in Detroit, the neighborhood economy loses an essential link.

Wright plans to run a store that's involved in the community, and he plans to develop a meeting/performance area that will provide educational opportunities and host food events, art events, and local musicians. It's a place that will offer an experience, not just a shopping trip, Wright says.

Though Wright doesn't have experience running a grocery store, he has assembled a management team with folks who have up to 20 years in the industry.

"Part of my goal is to provide an economic and entrepreneurial opportunity for people, and I'm pulling together a team that has experience," he says.

Donate to the campaign here.