MT file photo.
Red Corridor in Corktown.
Updated 4:49 p.m., Monday, May 8:
Red Corridor
issued an apology
on Friday, May 5.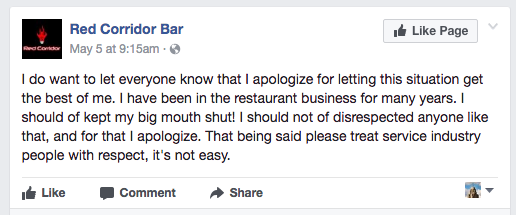 Original post:

The rule of thumb in the restaurant scene is that the customer is always right, but for Corktown's Red Corridor Bar, the old saying seems to have been thrown completely out the window.
Facebook user Ann Anderson posted a review of the restaurant on Tuesday. In her review, Anderson says the bar made her "feel very weird" and found menu items like "basic bitch salad" and "happy hour menu for bitches" to be strange.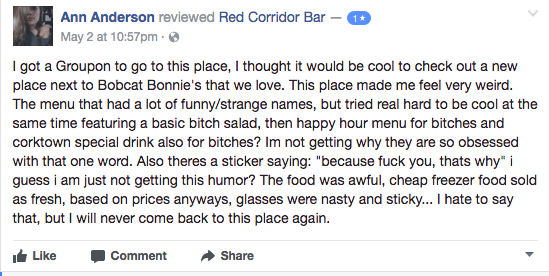 Screenshot from Facebook.
The response she got from the bar on Facebook, however, was a little harsh to say the least:

Screenshot from Facebook.
Anderson's husband, Maffahue Anderson, also left a review of the restaurant on Facebook. Maffahue tells
MT
that he originally left a 2-star review because he didn't want to "completely shit on their business," but after owner and operator Johnny Vasquez Irwin replied to his review, he changed his rating to a 1 star.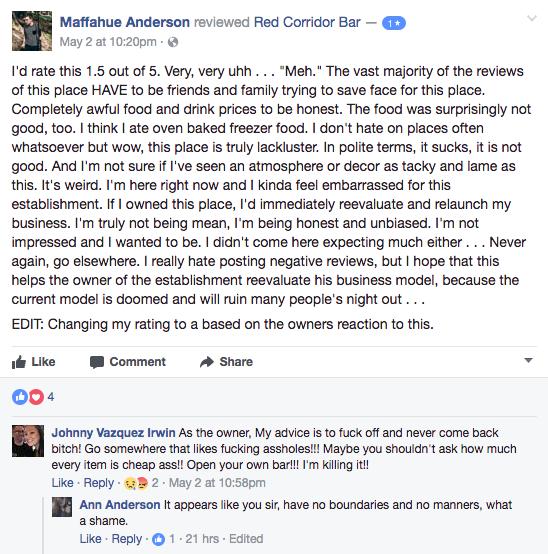 Screenshot from Facebook.
Irwin went on to call Anderson a "bitch" and to go "somewhere else that likes fucking assholes!!!!" in the comment section below the review.
The Red Corridor Bar
opened late last year
in the former Casey's Pub. It's not the first time the bar has courted controversy: The space was originally going to be called "Hoffa's Hideout," but a partner backed out following a backlash to the name, after which Irwin took over, changing the name to Red Corridor Bar.
In the past 24 hours, the bar has received
fourteen
1-star reviews, most complaining about the rude owner and how the bar is fond of the word "bitch."