Pinterest via @Toshia
Red Velvet Pancakes from Hudson Cafe.
The Motor City is known for mixing up a variety of foods. From their deep dish pizza to sweet BBQ — you name it, Detroit probably has it. One dish that Detroiters may not consider are flavored pancakes, a twist on an old classic. With all the morning hour eateries in the city, it's no wonder there are pancakes available to please every taste bud. Here's a look at where to go to enjoy these tasty hotcakes.
Hudson Café
1241 Woodward Ave, Detroit
Red Velvet Pancakes
Hudson Café is known to be a one-restaurant empire in the Detroit breakfast scene and their flavored pancakes are a big reason why. Standing high on the selection of ingenious and mouthwatering pancakes, this $10 dish is a beautiful red masterpiece, stuffed with Betty Cocker's home red velvet cake mix, cocoa powder, and homemade cream cake drizzle.
Brooklyn Street Local
1266 Michigan Ave., Detroit
Banana Walnut Pancakes
Brooklyn St. Local brings the morning heat with nearly 30 breakfast and brunch items to choose from. Their Banana Walnut pancakes exemplify the best they have to offer. These vegan hotcakes come with organic bananas, real Michigan maple syrup and walnuts on top, bringing something that's delish and healthier with locally sourced ingredients.
Sweet Potato Sensations
17337 Lahser Rd., Detroit
Sweet Potato Pancakes
Sweet Potato Sensations is the spot to venture for all things sweet potatoes, or in particular, the sweet potato pancakes. This treat is cooked with nutmeg, sugar, eggs, and cinnamon along with sweet potatoes. The three-hotcake meal can be complemented with meats like spiced turkey sausage patties, fried turkey chop, salmon croquettes or chicken wings.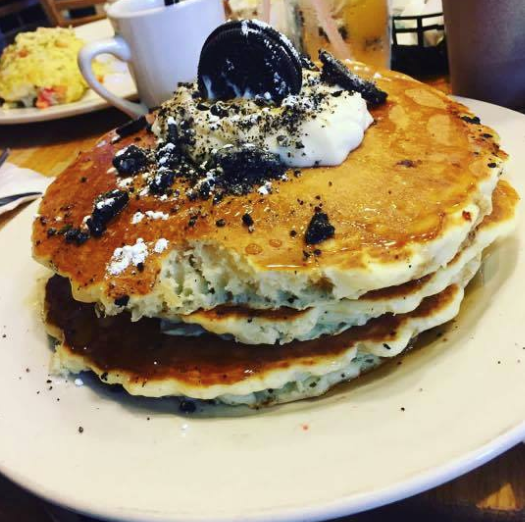 Instagram via @gabriellevicmm
Oreo Pancakes from Hudson Cafe.

Hudson Café
1241 Woodward Ave, Detroit
Oreo Pancakes
No more need to go to the grocery store to munch on good Oreos. If you aren't feeling fruity pancakes, go to Hudson Cafe to get three golden pancakes with crunchy Oreo bits on top. To make this masterpiece even better, there is rich cream cheese frosting layered on the hotcakes. For $10, this treat can be yours.

Grey Ghost
47 Watson St., Detroit
Crème Brûlée Pancakes
Grey Ghost is known for is alluring and tasty presence in the southeastern Michigan breakfast scene. The acclaim can be partially credited to the crème brûlée pancakes. The cakes are layered in vanilla custard and topped with cream brulee sugar, blueberries, raspberries, strawberries and powdered sugar.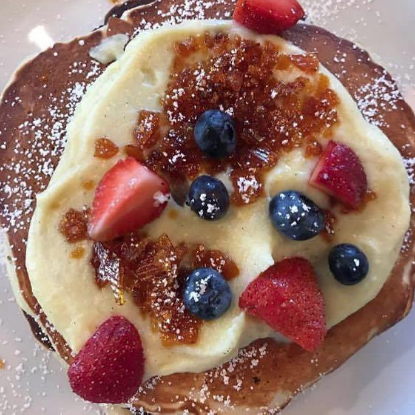 Instagram via @gabriellevicmm
Creme Brûlée Pancakes

Avalon Downtown Detroit Café & Brewery
1049 Woodward Ave., Detroit
Lemon Ricotta Pancakes
If you go to Avalon Café Brewery, you may want to go on weekends before 2:00 p.m. These brunch hours are when these pancakes, topped with ricotta cheese mixed with lemon juice, lemon zest, granola, butter and berries are served. If these Lemon Ricotta Pancakes don't arouse your taste buds, try ine of their other flavored pancakes the yummy French toast.
The Pantry Restaurant
34220 Van Dyke., Sterling Heights
Big Apple Pancakes
The Pantry Restaurant is known for its stellar breakfast options, but it's hard for any food there to match its "Big Apple Pancake." The fruity hotcakes are soothing to mouths, filled with a German pancake batter, sweet-oven baked flavor of sautéed apple, cinnamon glaze and powdered sugar.
Joseph Cooke is an editorial intern at the Detroit Metro Times. He studies journalism at Ohio University and listens to pretty much all music except country.