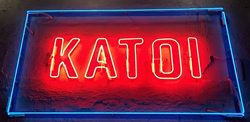 Katoi appears taking steps toward reopening.
The restaurant, which is one of "hip" Detroit's favorites, burned in a February fire that's being investigated as an arson. Five months later, its new interior at 2520 Michigan Ave. in Detroit is nearing completion, and the company
posted on Facebook
yesterday that it's hiring.
In the meantime, the blow was softened by an outpouring of community support, and the ownership crew has been rolling out dishes at pop ups in venues like Museum of Contemporary Art in Detroit and Frame.