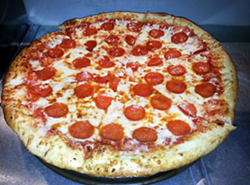 Detroit Pizza Co/Facebook
The Detroit Pizza Co. will celebrate a grand reopening under new ownership on Friday,
Deadline
Detroit
reports.
The restaurant, on Woodward Avenue in a Park Shelton storefront,
abruptly closed
in August, and it appeared that it was gone for good. But the new ownership already held a soft opening.
The most notable changes will be to the dough and sauce, and the pizzeria is also planning to offer vegan cheese and gluten-free crusts.
The first incarnation of the Detroit Pizza Co. opened three years ago, and it became known for 89 cent slices and offering a large pizza with one topping for $5.99. It's not immediately clear if that price point will remain the same.
We've reached out to Detroit Pizza Co. for more info.