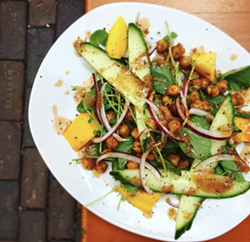 When it
opened in August
, the Detroit Street Filling Station offered a rare finer dining experience for those seeking a vegan menu.
But co-owners Phillis Engelbert and Joel Panazzo are announcing a change in concept. Effective Tuesday, the Filling Station will become a more casual version of itself, and will incorporate a social justice component into its mission.
The menu will still hold vegan takes on dishes from around the world, but it'll focus on simpler items like pressed sandwiches and salads. Diners can also expect a slightly more laid back environment.
Engelbert tells
Metro Times
that the former concept didn't work well for lunch, so the restaurant stopped lunch service.
"Basically, weekends were busy but we wanted to see more people in the space during other times. It's a large facility in the heart of Ann Arbor and we were wondering how we could be more accessible to people who sought space to gather," Engelbert says.
At the same time, the restaurant is announcing the launch of the Youth Justice Fund, of which the mission is to assist returning citizens who were sentenced as youth to a term of imprisonment "with services and resources necessary to ensure human dignity and full participation in their communities."
Beyond that, the restaurant will serve as a community space that hosts music events, art events, poetry readings, bingo, book clubs, and other meet ups.
Engelbert says the new concept is much more "comfortable to us."
"It's what we are at our core. Casual, comfortable dining and social justice. We envisioned a different focus, one that highlighted community, art, culture, music, and of course good food," she says.
A social media post presents from a former employee shows what appears to be an email from Filling Station's ownership notifying the restaurant's staff on Saturday that the concept would be changing and at least some employees would be out of a job.
"We are going to try a smaller, more casual concept that will require far less staffing than our current one does. As of this moment, we are pulling the plug on the current operation," the message reads.
Engelbert and Panazzo also run The Lunch Room food cart, which debuted in 2011; opened their first brick and mortar in Kerrytown, The Lunch Room Restaurant & Bar, in 2013; and started The Lunch Room Bakery & Cafe in the Huron Towers Apartments in 2015. The Filling Station is at 300 Detroit St. in Kerrytown. See its
Facebook page
for more info.