Courtesy photo
Cornbread skillet.
The Corner Grill, Bar & Game Room and Detroit Axe hosts its grand opening on Wednesday in the space that previously housed Local Kitchen and Bar.
That restaurant's owners – Brian Siegel and Geoff Kretchmer – are behind the new concept. It includes The Game Room at the Corner, which holds a 27-seat bar and offers 1,000 board games like Jenga, Pass the Pigs, or Boggle.
"Couples and groups are invited to sit down at one of several dedicated game tables, or a couch around the fireplace, and pick a classic game or a more serious strategic title to make an evening of it," Siegel said in a press release.
Upstairs, Detroit Axe will provide 12 lanes that customers can rent individually for $35 to $40 for a two-hour tournament, or $20 per hour. Beyond that, it'll offer darts, shuffleboard, bumper pool, and arcade games. The venue is "metro Detroit's first wholly dedicated, competitive axe throwing arena." Staff will enforce a strict one drink per hour limit in the axe venue.
The Corner will serve "upscale versions of classic sandwiches such as a ribeye French dip along with more novel offerings such as a grilled cauliflower steak and halloumi pita. Entree salads include smoked chicken, cashew & kale, and Asian ribeye and ramen. Shared plates such as macaroni and cheese, smoked brisket sliders and a cornbread Skillet will also be featured."
The Corner's menu will be available in Detroit Axe. It and The Corner are located at 344 W. Nine Mile Rd.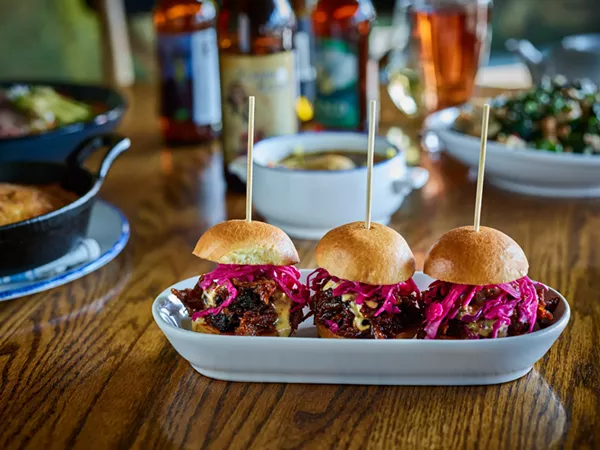 Courtesy photo
Smoked brisket sliders.