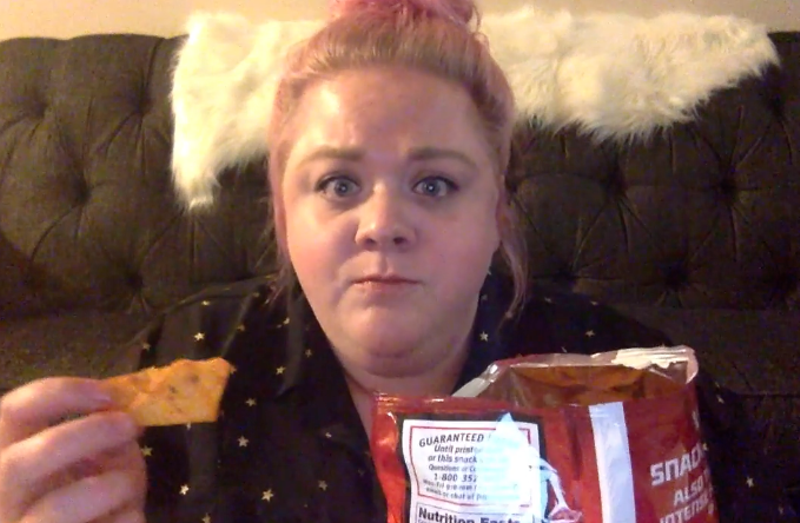 Photo via Facebook.
Calli McCain addressed the Lady Doritos controversy in a hilarious Facebook video.
The internet has been abuzz over the last few days since it was shared that
PepsiCo. chief executive Indra Nooyi said women don't eat Doritos the same way as men do
and suggested the company was producing snacks packaged specifically for women.
"Lady Doritos" news quickly blew up online and Twitter exploded like the crunch of a million Cool Ranch chips.
On Monday, Feb. 5, lady Michigander Calli McCain went to Facebook to share her thoughts on Doritos' newest marketing idea. While downing a bag of Nacho Cheese Doritos, McCain came down on the chip makers with hilarious wit and satire.
"Feminism — pack it up, go home. We have our own fucking chips now," McCain said while explaining the significance of the company's potential marketing move.
Watch McCain's full video here for more of her commentary on the Lady Doritos ordeal:
The "Lady Doritos" controversy began after Doritos CEO Indra Nooyi spoke on a Freakonomics podcast, saying women don't imbibe chips the same way men do.



"They don't like to crunch too loudly in public. And they don't lick their fingers generously and they don't like to pour the little broken pieces and the flavor into their mouth," she said, in part.

Nooyi has since squashed online speculation that the company is creating Doritos for women.

"We already have Doritos for women — they're called Doritos," she said in a Tuesday statement.

Anthony Spak is an editorial intern at Metro Times and a recent graduate of Oakland University's journalism program. Spak spends most of his time in Detroit playing music or eating gyros at Golden Fleece.