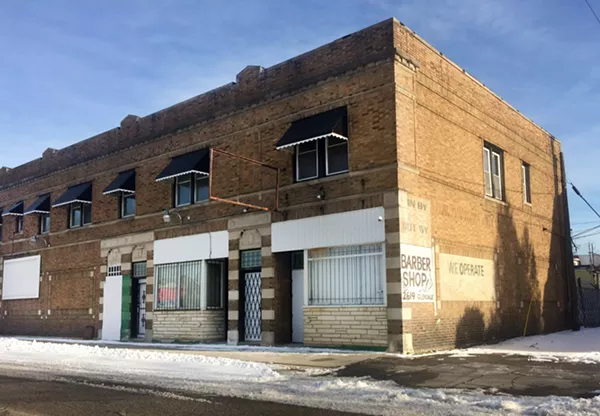 Tom Perkins
Future location of the Glendale Mini Mart.
Raphael Wright is the Detroit entrepreneur
who's behind an effort
to open the
city's only black-owned grocery store
, which will be called Neighborhood Grocery.
He's still in the process of securing land in the Islandview neighborhood for that project, so in the meantime, he and a partner are
converting
a vacant party store in Russel Woods into a mini-mart. When it opens, it will sell fresh produce, staple goods, prepared foods, and a small selection of beauty care, paper goods, and other items. The store will be called the Glendale Mini Mart, and it could be open as soon as this fall.
Wright says it's important to note that it's black-owned because most of Detroit's grocery stores and party stores are owned by Chaldeans.
"Representation matters in food distribution, in grocery stores, so we need more bodies running
theses
stores," he says. "We understand what our bodies need ... and there's a cultural connection, which improves service.
"Many chronic diseases can be reduced when
control
what we eat, and when we see each other eating better and doing better, then we tend to want to do that ourselves."
Courtesy photo.
Glendale Mini Mart.
As we've noted in previous stories on why there are
no black-owned grocery stores
in Detroit, one of the obstacles to ownership is a lack of management experience.
The 1,500-square-foot bodega will also serve as a "training center" for employees who want to gain experience running a grocery store, and for people who will work at Neighborhood Grocery.
Wright is opening the Glendale Mini Mart with Sonya Greene, a registered nurse who bought the building with the intention of turning it into "a community anchor that will spark further development in the neighborhood."
Neighborhood Grocery and the Glendale Mini Mart are both still raising money. Glendale Mini Mart is seeking another $100,000 in funding, which Wright says he hopes to cover with grants, a GoFundMe
page
, and, if need be, investors and traditional lending.
So many restaurants, so little time. Find out the latest Detroit dining news with our weekly food newsletter delivered every Friday morning.