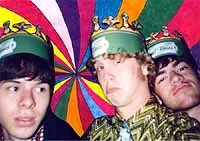 Photo / Cornish in a Turtleneck
Cornish in a Turtleneck
Cornish in a Turtleneck is an indulgent romp through the strawberry fields of musical good fun. Some might argue that it's more of a foaming-at-the-mouth overdose, but I prefer indulgence. Plenty of bands exist in the super serious realm of music. So it's nice every once in a while to witness a talented group that's not too afraid to make fun of itself.
Using instruments such as salt shakers, xylophones, toy electronic guitars, recorders and video game beeps (along with traditional guitar, bass and keyboard), CIAT don't just create their own brand of psychedelia. They resurrect the innocence of musical discovery -- clinking half-filled water glasses, blowing into the top of a pop bottle, and banging on pots and pans. Visual backup adds to the trip with swirling liquid images, slide projections and films of girls eating lizards. Plus, there's the occasional somersault, shaking fit or obligatory "trance." And in competition with Barry Manilow and the Allman Brothers Band as to which group has the best song that includes my name, Cornish in a Turtleneck's is the overwhelming favorite.