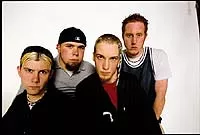 Photo / Robert Alford
Factory 81
Factory 81 has a lot to say (four to five minutes worth in almost every song) but the band members aren't lecturing specific protest strategies to the masses. They give their fans more credit than that. Vocalist Nathan Wallace even states in the liner notes that he isn't trying to force his beliefs on the listener: "I am giving an aspect of one person's life (namely mine) on this earth." Beyond the lyrical content, Factory 81 kicks out aggressive mosh-metal with the best of them. All of the elements are there vocally – an impressive scream, a whatcha-whatcha-want rap style, a subtle and breathy whisper, a pained and longing tenor. The same range is expressed within the instrumentation, with bass, drums and guitar that move from pounding fist-grinding chords and beats to funky rhythms.
These talents have not gone unnoticed. Signed to California-based Mojo Records, Factory 81 is catching on across the country. Look for the band on the Republic/Universal Records compilation Take a Bite Outta Rhyme: A Rock Tribute to Rap. Factory 81 contributes alongside Stained, Sevendust, Bloodhound Gang, Insane Clown Posse, Kid Rock and others. And also watch for their music video, filmed at The Wired Frog where Factory 81 got its start.