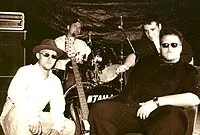 Photo / 2 Days Straight
2 Days Straight
You don't have to be from Nashville to sound like you are, but Detroit's 2 Days Straight recorded its latest album there and damn, does it ever sound like it.
The Chrome Album
drives home 11 shots of biting bourbon-soul and funk-blues rock. With a gruff 'n' gritty soul slinger on the mic and riffs so powerful you have to close your eyes, 2 Days Straight'll get the house a rockin' and shake your money maker.