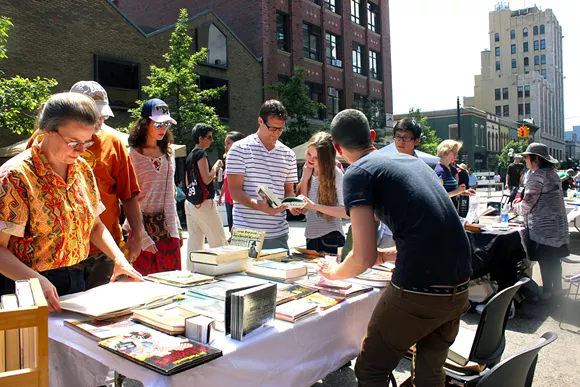 The annual Ann Arbor Book Festival is set to bring a diversity of literary events throughout Ann Arbor and Ypsilanti this week.
On the agenda for this year's fest are a street fair featuring local vendors, author readings, literary organizations, and more; a "Moonlight Book Crawl" which will feature Michigan authors doing live readings in area bookstores, bars, and restaurants; and a writer's conference with full-day workshops led by seasoned writers.
The four-day event features a number of Michigan-based authors, including Toby Barlow (who is leading a writer's conference session called "The Difference Between Fictional Fantasy and Absolute Nonsense"); Susan Hutton, leading a session on "erasure poetry," and a reading by graphic novelist Phoebe Gloeckner, whose
Diary of a Teenage Girl
has been made into a feature film
set for release later this summer.
Additionally, the AABF is set to announce the recipient of the Leader in the Literary Arts Award, bestowed upon those individuals and organizations that contribute to making Ann Arbor's literary scene. Events are planned through June 17-20. See the official website for the full schedule,
aabookfestival.org
.