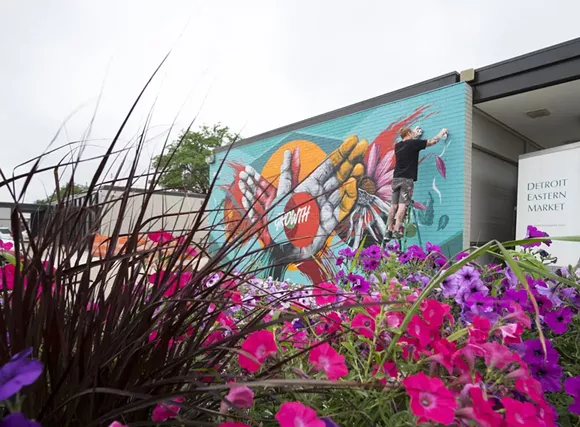 Courtesy photo
Meggs puts the finishing touches on his latest Detroit mural.
On Monday, 1XRUN and Eastern Market Corporation
announced the inaugural Murals In the Market festival
, which will see the creation of new street art from more than 40 local, national, and international artists in and around Detroit's Eastern Market.
On Tuesday, they offered more details, including an initial roster of participating artists. They also kicked things off with the presentation of a new mural by the Australian artist Meggs, who was on hand to put the finishing touches on the painting. The new mural, which shows two hands emblazoned with the word "Growth," is located at 2934 Russell St., Detroit, across the street from Joe's Liquor & Wine Shop.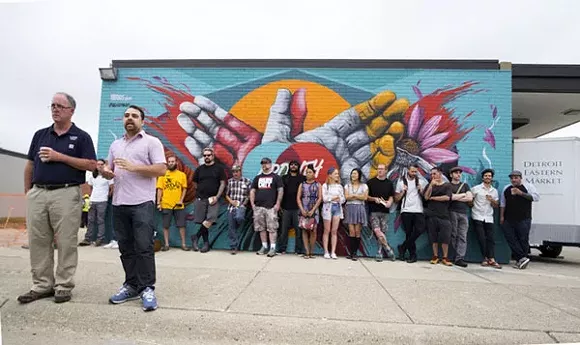 Courtesy photo
Eastern Market Director Dan Carmody, left, and 1xRUN co-founder Jesse Cory announce the artists for the Murals In The Market festival on Tuesday.
Featured artists include 2501, Askew, Beau Stanton, Brian Lacey, Denial, Ryan Doyle, Ellen Rutt, Fel3000ft, Glenn Barr, Hannah Stouffer, Hebru Brantley, Hot Tea, Hygienic Dress League, James Noellert, Kobie Soloman, Michael Burdick, Jeff Soto, Jesse Kassel, Jonny Alexander, Kashink, Luke Cheuh, MadSteez, Malt, Marlo, Martha Cooper, Meggs, Michelle Tanguay, Miss Van, Monica Canilao, Naturel, NNII, Nosego, Nychos, 0uizi, Persue, Rick Williams, Ron Zakrin, Rone, Sydney James, Taylor White, Tead, Woes, and Zak Mears, with more to be announced.
The festival will take place Sept. 17-25. More information is available on the
festival's website
.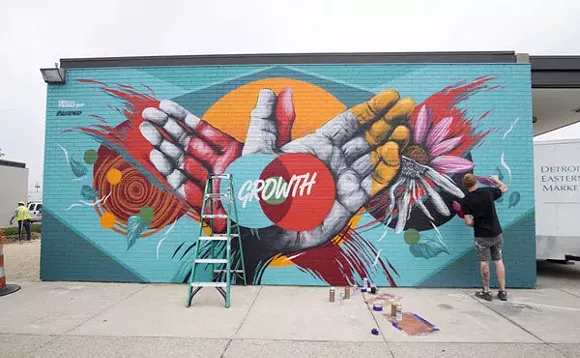 Courtesy photo
Meggs' new mural is located at 2934 Russell St., Detroit.