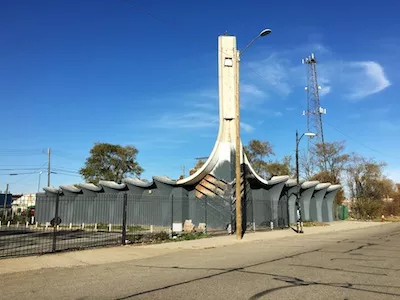 Sarah Rahal
Stanley Hong's Mannia Café.
Traditionally, fans of Detroit's historic architecture have had it hard enough simply arguing for preservation of the city's iconic skyscrapers, let alone the hundreds of humbler buildings that are architecturally or historically valuable. As Detroiters, we may not even properly appreciate just how remarkable some of them are.
That's why we enjoy the insights of a guy named Tim Samuelson. By day, Samuelson is the official cultural historian of Chicago, but some weekends find him traveling the streets of Detroit, looking for offbeat gems that speak to him.
One of those buildings is in Milwaukee Junction, at 265 E. Baltimore St. It's the remains of Stanley Hong's Mannia Café, a building Samuelson says is in his "Top Ten" of favorite Detroit buildings. He noticed the building this summer and called it an "amazing" example of what some people call "Googie" architecture, "a term used for the fantasy whimsical architecture of old drive-in restaurants. Samuelson adds that, "although definitely designed to be showy, the distinctive exterior walls are actually real structural forms shaped into an eye-catching presence."
Samuelson became so absorbed by his interest in the building that he did further research, uncovering the modernist building's multicultural associations: It was designed in the late 1960s as an upscale restaurant for well-known Chinese restaurateur Stanley Hong, and could be the work of African-American Detroit architect Nathan Johnson. Johnson directed the architectural firm Johnson & Associates, and also designed Hong's modernist house next to his own traditional house on East Boston Boulevard. (Samuelson even believes Johnson may still be alive somewhere at the age of 90.)
<!— image-7 —>
"It seems that, from the start, there was a strong African-American presence in the patronage of this restaurant," Samuelson says, "and Coleman Young was there for the opening in 1971. In the 1990s, show promoters used the restaurant as an early rap and hip-hop venue under the name 'Rhythm Kitchen.'"
<!— image-6 —>
This fall, for some reason, the building is getting a coat of black paint, something that pains a preservationist like Samuelson. He says he "always entertained optimistic hope that somebody would creatively re-use this building, but never imagined anyone spraying black paint all over it. It really spoils the two-tone effect that emphasized the architectural forms and different materials, and it would be really tough and costly to remove."
That said, he says he still thinks it's one of Detroit's most interesting buildings. And after hearing all that, we do too.
Sarah Rahal
Stanley Hong's Mannia Café.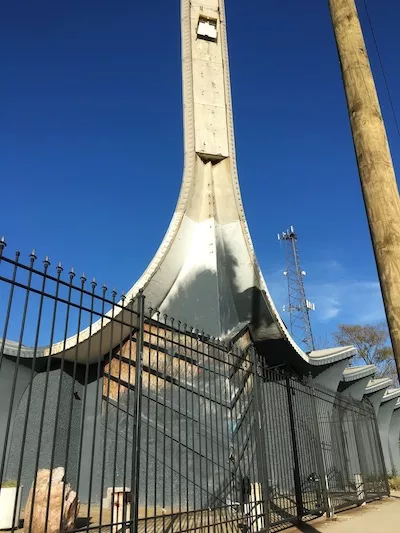 Sarah Rahal
Stanley Hong's Mannia Café.
Sarah Rahal
Stanley Hong's Mannia Café.
Sarah Rahal
Stanley Hong's Mannia Café.