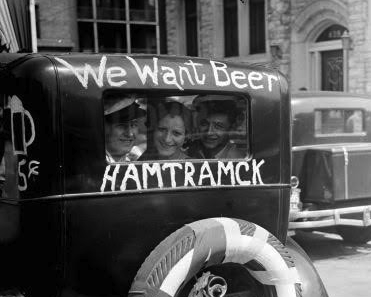 Photo courtesy Detroit News Collection, Walter P. Reuther Library, Wayne State University
Hamtramck has long been famous for its bars. Back in the old days, it was rumored to have the most bars per capita of any American city. Even as little as five years ago, there were still dozens of sales licenses in that 2.2-square-mile town. Even as the landscape has changed, it still retains many of its historic watering holes, and draws drinkers who remember the ones lost to time.
Maybe you're one of those habitués? Maybe you remember a thing or two about the bars, halls, and taverns of yesterday? If so, you'll want to join in on the latest Hamtrivia event: An evening of snacks and trivia about Hamtramck bars. Local stalwart Kathy Angerer will host the proceedings, which start at 7 p.m. Saturday, Jan. 16, at the Hamtramck Moose Lodge #1670, 9421 Conant St., Hamtramck; $10 admission and cash bar, with proceeds benefiting the Hamtramck Historical Museum's furnace fund.